The Diary of a Wimpy Kid puzzle was one of four puzzles that we got from a library book sale. We started working on it right when we got home as we really liked the Diary of a Wimpy Kid books. This was a fun jigsaw puzzle and bit challenging for a 200 piece puzzle due to the shape of the overall puzzle and individual black and white pieces. Watch the video to find out if there were any missing pieces.
Title: Diary of a Wimpy Kid
Pieces: 200
Artist: Jeff Kinney
Company: Pressman Toys
Year Printed: 2012
Content:
If you enjoyed the Diary with Wimpy Kids books, then you'll like the puzzle's black and white illustrations of Greg from different scenes in the books.
Quality:
Large puzzle pieces that are nice and sturdy. Has decent interlocking. The puzzle box was flimsy. Made in China.
Difficulty:
The puzzle is shaped in Greg's head, the main character in the Diary of a Wimpy Kid. It was easy to find the edge pieces, however, it was hard to fit them together due to shape of the puzzle piece and lack of visual clues, as it was black and white. The rest of the puzzles was much easier to complete.
Unfortunately, we were missing one edge piece. We bought the puzzle for 50 cents, so worth it as it was fun and challenging. If this puzzle was 500 pieces and more colorful, it would be an even better puzzle.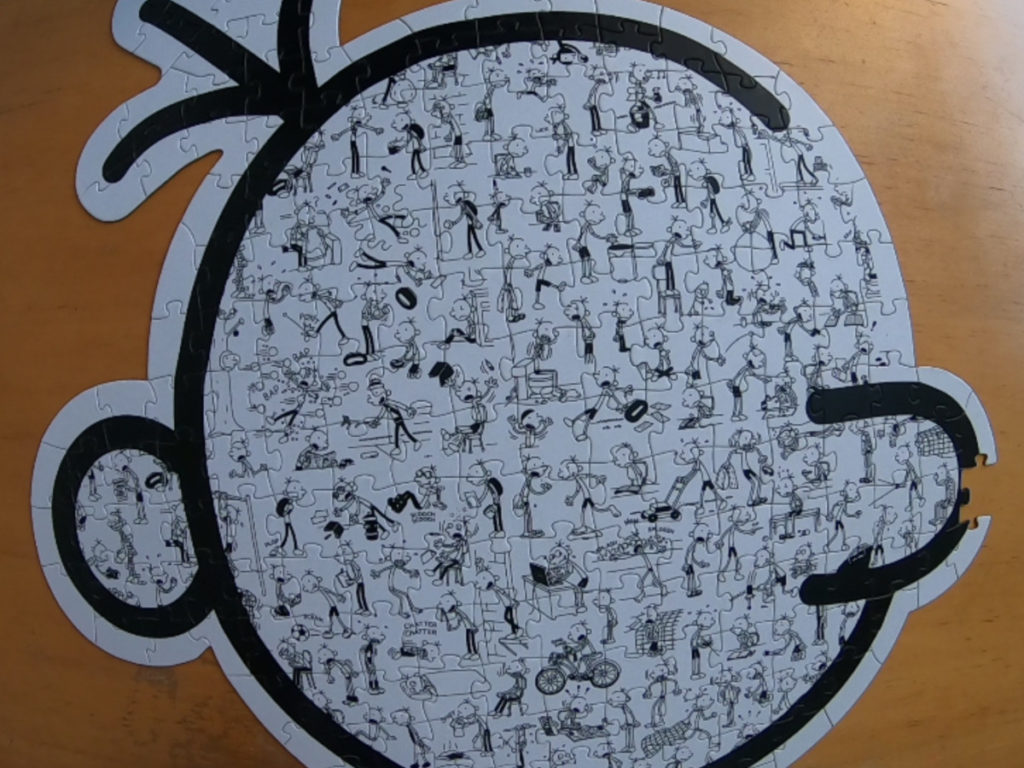 Let us know if there are other oddly shaped or Diary of a Wimpy Kid puzzles that we should solve.
Diary of a Wimpy Kid Puzzle | 200 Piece