Chaotic and humorous dog pageant at a local pub.
Typical Jan van Haasteren illustration packed full of his jokes.
Overall, a very challenging puzzle to solve.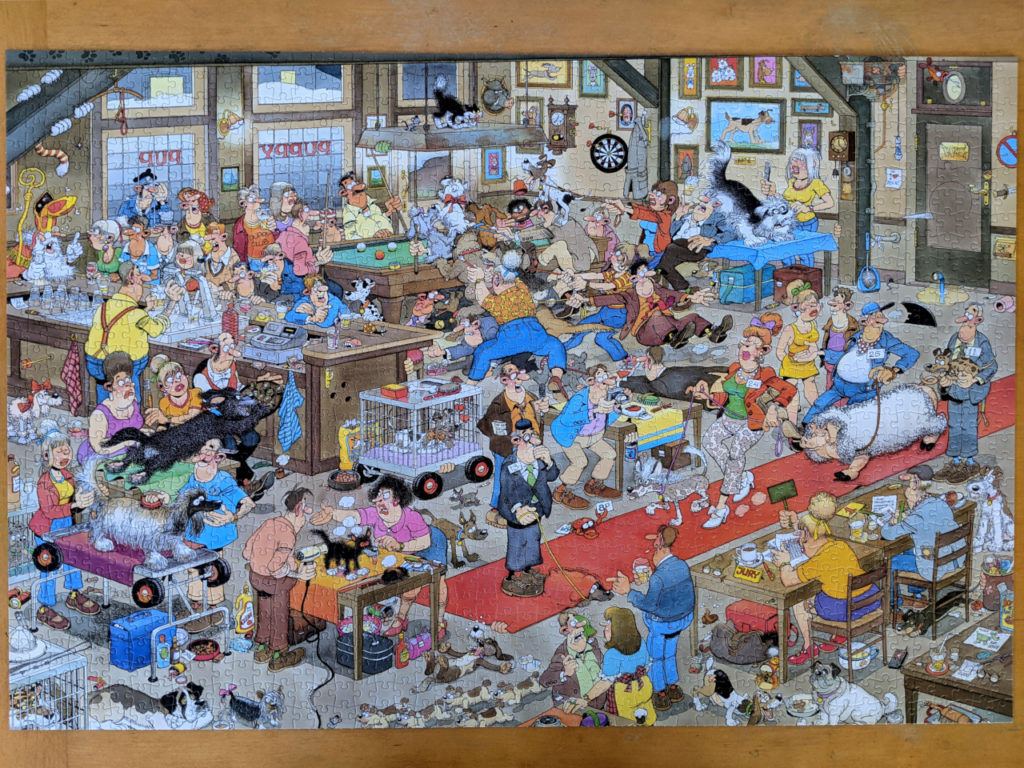 The Dog Show puzzle is illustrated by Jan van Haasteren, a popular Dutch artist known for comic styled illustrations that are whimsical, detailed, and packed with "jokes". Some of van Haasteren's background trademark "jokes" are: shark fins, snorkels, peeking eyes, false teeth, mysterious hands, monster hands, roll of toilet paper, bowling ball holes, Saint Nicholas, hidden cat, goldfish, fugitive and police, snail, ghost, octopus, knife in wall, arrow in wall, toilet plunger, and paper airplane. Look carefully and you'll notice those jokes in The Dogshow.
Title: The Dog Show
Pieces: 1500
Artist: Jan Van Haasteren
Size: 35in x 24in or 90cm x 60cm
Brand: Jumbo
Year Released: 2016
Build
As with most puzzles that have detailed illustrations, the main challenge is with coming up with a good sorting strategy. However, it usually turns out to be a "Where is Waldo" strategy, which is to scan the unsorted piece for a specific clue. As a 1500 piece puzzle, there are more pieces to solve, so any pieces that can be sorted will help in the big picture. Therefore, our sorting strategy focused on three main concepts: the border, distinctive colors, and specific patterns. For example, the red carpet and green pool table are distinctive colors from rest of puzzle's colors of brown, tan and gray. As for specific patterns, the picture frames, animal features, people, and window are things that we focused on.
Difficulty
We also made the puzzle a bit more challenging by solving it partially blind. Blind means not to reference the puzzle box cover and illustration. It took us even longer to solve the puzzle, specifically eight and half hours (8:24:13). Overall, The Dog Show puzzle is a challenge
Lastly, this is the 67th puzzle from our 87 puzzle collection. Leave us a comment if there are any other Jan van Haasteren puzzles that you would like us to review.
The Dog Show Puzzle Is Wonderful and Bizarre