This post contains affiliate links. If you use these links to buy something we may earn a commission. Thanks.
The most popular jigsaw puzzles of 2022 is based on puzzle fans' votes on Reddit(r/jigsawpuzzle), the largest online jigsaw puzzle community. In combing through 18,000+ submissions, over 8,000 unique jigsaw puzzles were identified. Last year, gradient and challenge puzzles were popular. This year, really large puzzles (2000+ pieces) made a comeback in popularity. Below is the compiled list of the top forty most popular jigsaw puzzles of 2022 per Reddit.
How The List Was Made
All valid submissions on r/jigsawpuzzle were collected from start of January 2022 to the end of September 2022. Valid submissions must have identifiable puzzle brand, title, and number of pieces. A qualified puzzle must have at least five unique valid submissions. Duplicate submissions were discarded. Lastly, each qualified puzzles' votes from their own valid submissions were averaged to determine the rank. For prior year's list, check out best jigsaw puzzles of 2021 and best jigsaw puzzles of 2020.
---
40
Hansel and Gretel Beware
Ravensburger, 1000 pieces
Early in the year, fans were waiting in anticipation for this puzzle. Even now with the puzzle being widely available, it is still on many puzzle fans' wish list. Fans recommended to "start from the center" as the dark forest is the more challenging part.
39
Marel Villianous Thanos
Ravensburger, 1000 pieces
For every hero there is a villain. However, in the case of Thanos, multiple heroes are needed to vanquish him. Are you brave enough to solve this puzzle? A fan joked that the puzzle should "come with half the pieces."
38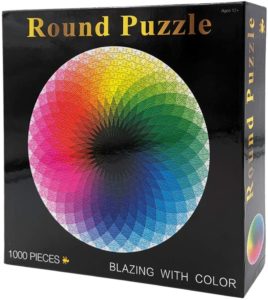 Blazing with Color
Generic, 1000 pieces
Blazing With Color has been a hit since 2020. It is available from numerous brands as the design is not copyrighted. Most mentioned that quality is pretty good for the price. As for the design and enjoyment, the "puzzle is a feast for the eyes! So colorful!" and "soooo much fun to put together."
37
Vincent van Gogh's Time Travel to Musee d'Orsay
Antelope, 1000 pieces
A "must have" for any fans of Vincent van Gogh or the Musee d'Orsay. The puzzle is a wonderful "journey through art history." A fan proclaimed, "one of my favorites! Great quality as well."
36
Gradient
Blue Kazoo, 1000 pieces
Gradient puzzle were very popular last year and continues to be popular. Blue Kazoo's gradient stands out, because of "good quality as usual" and great customer service. Fans extolled how "very satisfying" and "veerryy pleasing" when finished.
35
The Artist's Desk
Ravensburger, 1000 pieces
The artwork pulls you in and then you realize it is a challenge as "the shadings is really hard as the puzzle is so much darker than what was on the box." While some puzzlers "were very disappointed with" it, other puzzlers were enthusiastic about it.
34
Rainbow Kingdom
Elena Essex, 1000 pieces
Elena Essex is probably the break out brand for 2022. The puzzles' designs are colorful. Fans praise the puzzle's quality and "the pieces fit together well". "Lovely" was the most common word used to describe Rainbow Kingdom. One fan proclaimed "it was so fun!"
33
Saguaro Forms and Cactus Flowers
Galison, 1000 pieces
Saguaro is a design by Frank Lloyd Wright, the famed architect. However, the design was considered too radical during his time. Numerous puzzle brands have printed this design. Galison's stands out because of the gold foil, "colors and sharp lines." The puzzle is "awesome but challenging" and can be solved "upside down too!"
32
Alchemist's Cabinet
eeBoo, 1000 pieces
Fans really "love" this puzzle. One fan proclaimed, "I've done hundreds of puzzles and this one is my favorite!" Multiple fans mentioned that they "will continue to do (this puzzle) in future." Fans also mentioned puzzle is of "good quality" and has "so many colors and little details."
31
Black Cat
Genuine Fred, 500 pieces
A fan favorite from last year continues to earn praises from new fans this year. "Love" of the design was the prevailing comments from fans, with some puzzlers framing the puzzle. The puzzle "was quick, but fun!"
30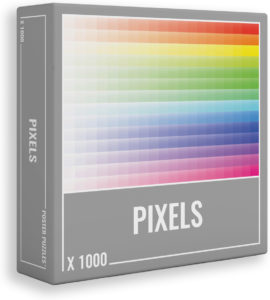 Pixels
Cloudberries, 1000 pieces
Less difficult than a full gradient. Fans espoused that it "looks like a lot of fun to build." "Good quality, except a number of false fits." People who like to sort will enjoy the gradient type puzzles. Note: This puzzle may be out of print.
29
Cats Playing Chess
Exploding Kittens, 1000 pieces
If you are a fan of the Exploding Kittens game, then you'll appreciate this puzzle as it is chock full of Easter eggs in it. Fans' feedback were "oh so cute", "super-shiny", "tricky", and "this looks awesome!"
28
If Fish Could Walk
Ravensburger, 2000 pieces
Another fan favorite from last year. The artwork is mesmerizing and "frame-worthy". Looks challenging, but "easier than expected for a 2000pc" puzzle. Numerous puzzlers have this on their wish list.
27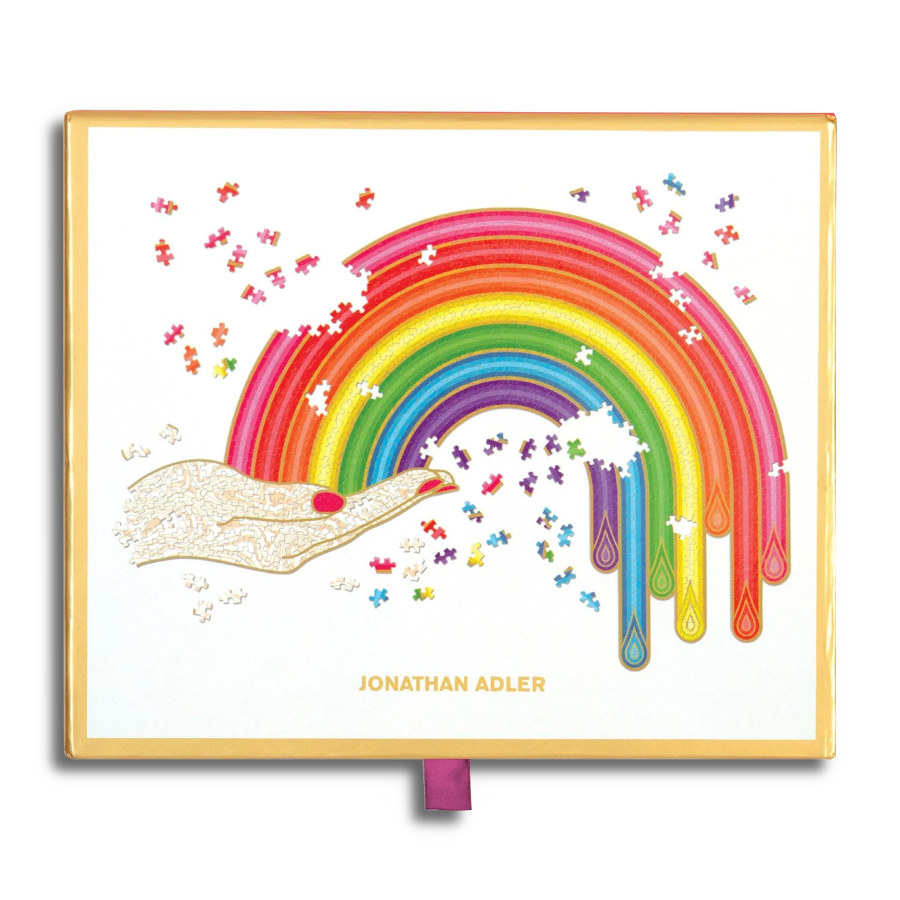 Rainbow Hands
Galison, 750 pieces
A perennial fan favorite. Got eclipsed last year due to strong competition from gradient style puzzles. Overall, fans have high regard for the uniquely shaped design and quality. "Not as easy as it appeared but it's beautiful." "Pieces felt great and the puzzle was fun."
26
I'd Rather Be Reading
Galison, 1000 pieces
Gradients combined with books, what is there not to like? "Fun and somewhat easy." Galison is known for their quality, but some noticed that quality has dropped a bit for this puzzle. Galison puzzles also have a loose fit, so may be frustrating when dragging partially assembled pieces across a felt puzzle board.
25
Symmetry
Cloudberries, 1000 pieces
Fans proclaimed the puzzle is "pretty funky " and "really nice and colourful." One fan advised that puzzle is "daunting at first but then came up with a strategy and this puzzle started going very smoothly." If "you're looking for a challenge, try it!"
24
Krypts
Ravensburger, 736, 654, 631 pieces
The Krypt series is Ravensburger most challenging line of puzzles. Black is the most popular and difficult to solve. Silver and gold are just as challenging but have less pieces. Fans have previously mentioned that Krypts are "intimidating" and that most will "love and hate it." There is a now a Gradient that combines the Krypt challenge with gradient colors, supposedly easier to solve.
23
Chunky Rainbow
Buffalo Games, 500 pieces
This puzzle is for anyone who wants to take a break from challenging and/or large puzzles. Fans rejoice that the puzzle is "nice and relaxing", a "cozy, stress free experience", and "simple but fun to put together."
22
Norman Catwell
Buffalo Games, 300 pieces
The artwork is a whimsical parody on Norman Rockwell's self portrait. A "cute", quick and easy puzzle. "The artwork made me smile and it was easy to assemble."
21
Poisons and Potions
Ravensburger, 2000 pieces
Be warn that you'll need a puzzle space big enough to work on this puzzle. Fans point out that the puzzle is "definitely harder than expected but so satisfying to finish", because of how "much more blue than it seems."
20
Puzzle Rainbow
Buffalo Games, 1000 pieces
Many fans mistaken the artwork for another puzzler's work in progress of a gradient puzzle. "For a moment I thought this was a picture of someone's desk instead of a completed puzzle." The puzzle is a meta of a gradient puzzle that is slightly harder than a regular gradient.
19
Firuzabad
Galison, 750 pieces
Frank Stella is the artist and the design has received numerous praises: "beautiful image", "fun design", and "oh that's cool!" The puzzle is worthy enough to frame as an art piece. Good quality overall with a loose fit.
18
The Clearly Impossible Puzzle
CM Originals, 100, 200, 500, and 1000 pieces
This quote best sums up the puzzle, "it made me cry 3 times, 5 stars." A challenge puzzle made of clear plastic with false edges and corners. Not possible to sort by color and "you don't know if it's the front or back." "Very challenging and a lot of fun" and "bittersweet." Note: There are numerous counterfeit versions of this puzzle, so make sure to check puzzle is authentic.
17
Rainbow Popsicle
de.bored puzzles, 1000 pieces
Fans praise the "beautiful design " with "great colors." It is a "quick and fun " puzzle, but has "loose fits." However, some puzzlers noted that the quality could be better, especially with the cutting as could lead to peeling pieces.
16
Woodland Magic
Elena Essex, 1000 pieces
"Gorgeous", "vibrant colors without burning out your retinas", and "it's great!" are some of the praises from fans. Puzzle's quality was highly extolled, "thick, matte pieces that stay together pretty well", "no false fits or peeling pieces and hardly any puzzle dust", and "love it."
15
Lego Rainbow Bricks
Chronicle Books, 1000 pieces
If you love Lego and puzzles, then this puzzle is for you. The puzzle looks "complex", but "not as much as it is a gradient." However, multiple people warn that the quality "of the actual pieces were so-so" and "wasn't great."
14
Reign of Dragons
Ravensburger, 3000 pieces
A favorite from last year's list and still receiving rave reviews from fans, such as "beautiful", "gorgeous", and "impressive!" Some are hesitant to work on it as they need a table big enough for it. Some fans pointed out that the "trees were real pain." However, "not that difficult if sorted well."
13
Glitter Challenge
Ravensburger, 1000 pieces
Gradient with sparkles is more challenging than a regular gradient puzzle. One fan aptly described the puzzle as "far more challenging than I was expecting it to be for a gradient." Highly recommended to puzzlers who love gradients and want a challenge.
12
Magical Bookcase
Ravensburger, 18000 pieces
How about a "legendary" 18,000 pieces puzzle? One fan "badly needs to find this", but "have nowhere to build" it. A recommendation to work on such a large puzzle is to use foam boards to hold specific sections, then connect the sections together.
11
House Plants
Cavillini and Co, 1000 pieces
What is there not to like if you love both "indoor plants and puzzles?" Fans mentioned "super easy" and "good as a palate cleanser after a harder puzzle." However, some fans "had some issues with false fits at the edges."
10
The Great Wave off Cat-a-gawa
Exploding Kittens, 500 and 1000 pieces
A parody of the famous artwork, The Great Wave off Kanagawa, with cats. Lots of cats. Fans warn that it is both "cute and challenging", as the "sky was horrible!" Available in 500 and 1000 pieces
9
Bird Paradise
Elena Essex, 1000 pieces
A "stunning" round puzzle that has a "beautiful" design with "pop of colors." The puzzle received high marks for the quality, especially "the smooth feel of the pieces were divine." For a small brand to have three puzzles on this year's list is astounding.
8
Impossibles Monopoly
Bepuzzled, 750 pieces
A "devious" and "outright sadistic" puzzle that has no edges, five extra pieces, and does not include a full picture of the puzzle. If you are up for the challenge, then this puzzle is for you.
7
Gradient
Clementoni, 1000 pieces
A consistent fan favorite. "The colors are more balanced than many of them (gradient puzzles), and it's good quality." The design has an "origami aesthetic, and seems to sit somewhere between cubism and futurism" and "satisfying to look at."
6
Zodiac
Ravensburger, 3000 pieces
Fans swooned over this puzzle as "beautiful", "cool", and "impressive." However, it is "tougher than expected", because "the edge was almost the most difficult part." Recommendation is to work on the border last.
5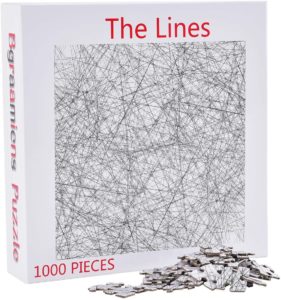 The Lines
Bgraamiens, 1000 pieces
This puzzle was recognized in the 2020 list and has made a return. If looking for a puzzle that illicit responses, such as "most frustrating puzzle I have ever done ", then this puzzle is for you. "Worse than a solid color", but clues are provided to help those who need it.
4
Disney Museum
Ravensburger, 9000 pieces
Very few people get to solve a 9000 piece puzzle, but many aspire to solve such a "holy moly" masterpiece. One fan inquired on the level of physical fitness required, "how do you manage your back pain? Doing this huge puzzle on floor requires a very strong back!"
3
Puzzle Complaints
Workman Publishing, 500 pieces
This puzzle will "crack" puzzlers up and make them "smile". It is "hilarious", "fun", and "so meta." The puzzle also has a surprise, which will not be disclosed here so as not to ruin it.
2
Memorable Disney Moments
Ravensburger, 40,320 pieces
Undertaking this puzzle requires a herculean effort and plenty of time and space as the completed puzzle measures 22.3ft wide x 6.2ft tall (6.8m x 1.9m) and weighs 44lbs (20kg). Ravensburger estimates it will take 600 hours to complete. Awestruck fans marveled at anyone who has completed it.
1
Pokemon Allstars
Ravensburger, 5000 pieces
Gotta solve 'em all. Supposedly, the hardest part in solving this puzzle is getting one's hands on it. Exclusive to Europe, fans elsewhere have to scour online stores for it. In addition, puzzlers will have to compete against Pokemon fans looking for this massive collectible.
Leave us a comment, if you have any questions about this list.
The Most Popular Jigsaw Puzzles of 2022