This post contains affiliate links. If you use these links to buy something we may earn a commission. Thanks.
Updated (Dec. 23, 2021): Expanded list to top forty and included data for November 2021.
We combed through Reddit to discover the best jigsaw puzzles of 2021, so you don't have to. Unsurprisingly, puzzles with colorful rainbow, spectrum designs continue to dominate the list. Yes, gradient style puzzles, we're looking at you! Difficult puzzles with challenging designs or large number of pieces were also strong contenders. However, puzzles with amazing artwork and/or design are the true gems.
For now, we have published the top twenty most popular puzzle based on Reddit. As we continue to compile and analyze the remaining data, we will refine and add to the list.
How We Made the List
We gathered all submissions posted on the subreddit r/jigsawpuzzle from start of January to end of October 2021. Valid submissions must have identifiable puzzle brand, title, and pieces. Qualified puzzles must have at least six unique submissions. Duplicate submissions were discarded. Lastly, we used the average vote received to rank qualified puzzles. For last year's list, check out best jigsaw puzzle of 2020.
---
40
Krypt Silver
Ravensburger, 654 pieces
If you are looking for a challenge, then this puzzle is for you. Folks warned that it "does get tedious after a while", may "cause anxiety", but provides a "huge sense of accomplishment" when all done. A pink version with same design and piece count is also available.
39
Krypt Gradient
Ravensburger, 631 pieces
If you like gradient puzzles, then this will encourage you to "take a plunge with Krypt puzzle." Surprisingly, "quite easy and relaxing." "Probably, the least challenging Krypt, but more difficult than most gradient puzzle."
38
Common Quilt Blocks
Cobble Hill, 1000 pieces
Quilters rejoice! What is there not to like? Has gradient, patterns, and collages. The "details are exquisite" and puzzle is of "high quality." The "grid made it easier" and was "enjoyable to organise by colour." 2000 piece version is also available.
37
Skyline
Cloudberries, 1000 pieces
Beautiful, stylish design of a city skyline. Fans praised the illustration as "beautiful", but also warned "it is very nerve racking" due to "similar shaped pieces." The "dark area was a struggle."
36
Shadows
Ravensburger, 1000 pieces
The most common praise for this puzzle was "it is a keeper." Most fans proclaimed the puzzle is "relaxing" and "quick, easy to sort and build."
35
Krypt Gold
Ravensburger, 631 pieces
Even though Gold has the smallest number of pieces in the Krypt series, it is still a major challenge. Many wish "lots of patience and luck" to those brave enough to undertake the puzzle.
34
You Wild Animal
Ravensburger, 1000 pieces
Animal lovers will appreciate this puzzle as it showcases creatures from A to Z. A lot of fans raved about the "skunk in action", specially the "stink cloud."
33
NYC Apartment
Ravensburger, 1000 pieces
It is an "absolute blast." Several fans said, it was one of the "fastest (1000) puzzle they've ever done" and "finished all in one sitting." However, several mentioned that it was hard to find in the US.
32
Winged Things
Ravensburger, 1000 pieces
Is this a gradient puzzle or a collage puzzle? Nevertheless, it is "easy to sort" either by color or pattern. Fans commonly described it as "pretty" and "vivid". New for 2021, so may be difficult in find in stock.
31
Villainous: Prince John
Ravensburger, 1000 pieces
Every hero needs a villain. For Robin Hood that is Prince John. Ravensburger's Villanious series celebrate the baddies in Disney movies. One fan extolled, "they're super fun, albeit a little challenging when it comes to the picture frames."
30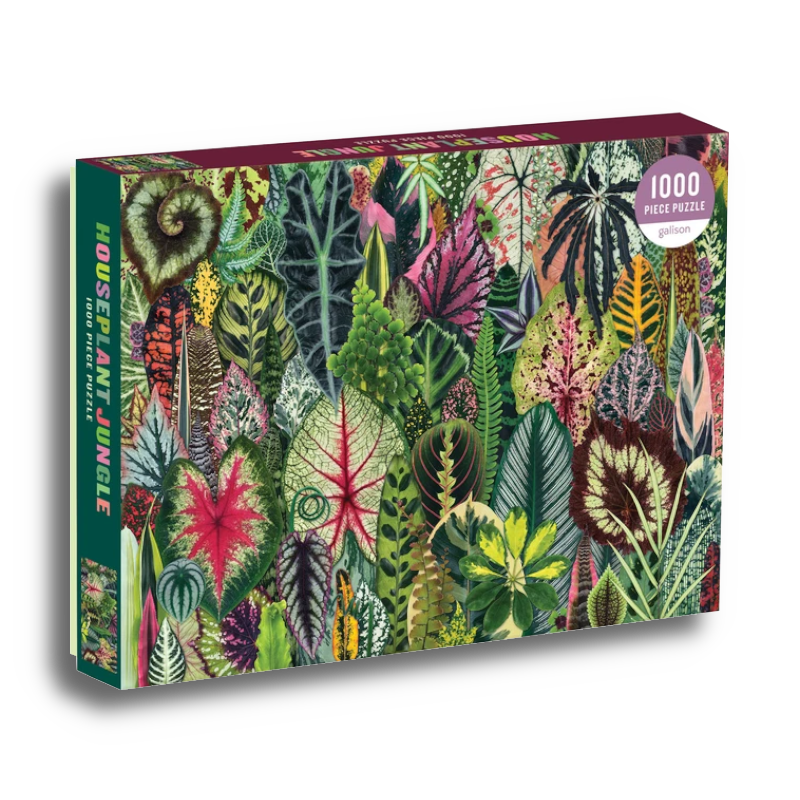 Houseplant Jungle
Galison, 1000 pieces
"So luscious and verdant!" If you love plants and what a challenge, then this puzzle is for you. One fan noted that "the different textures of the leaves made all that green a bit less intimidating."
29
Black Cat
Genuine Fred, 500 pieces
The only 500 piece puzzle in this year's list. If you are a cat lover, especially black cats, then this puzzle is for you. Puzzle is "refreshing to do with not as many pieces, and that has such bold colors."
28
Lego Minifigure Faces
Chronicle Books, 1000 pieces
Folks call this a "torture puzzle" as the design and lack of variation in piece shape make it super challenging. Sardonically, "worst present I have ever received."
27
Cats Playing Hippo
Cobble Hill, 1000 pieces
"Adorable" and "need" were two common words used by fans to describe this puzzle. The walls were the most challenging part. Artwork from The Oatmeal (Matthew Inman).
26
Birdie Seasons
Ravensburger, 1000 pieces
Part of Ravensburger's I Love Birdies collection. A fan thought the puzzle is "really vibrant and the pieces look like little gems". While others warn that it is "harder than it looks."
25
Gradient
Cloudberries, 2000 pieces
One of the original gradient puzzles that made last year's list. It is "very challenging", but a "satisfying challenge". Fans recommend taking many breaks and warn that "yellow/green were the hardest part."
24
Reign of Dragons
Ravensburger, 3000 pieces
Huge, fantasy themed puzzle that will take weeks to solve. Have deceptively challenging patterns, such as trees and mountains. Fans say it is "awesome" and is "a lot of fun".
23
Astrology
Galison, 1000 pieces
Bold colors with astrology symbols in metallic foil that pops out. Happy fans "love the foil", say it is "tricky" and "beautiful."
22
Written in the Stars
Buffalo Games, 1500 pieces
"Stunningly beautiful!" Astrology, camping, and gradients. What is there not to like? One fan warned "the trees were the toughest part."
21
NASA Mercury
Cardinal, 750 pieces
Blast off and discover Mercury with this "amazing looking" and "good quality" puzzle for its price point. An impressed fan proclaimed the "foil effect and colors are really cool."
20
Queen Bee
Genuine Fred, 1000 pieces
"This is so much fun!" Artwork by Fiona Hewitt. A fan mentioned "the pieces are very thick, very sturdy, and fit together." One fan mentioned "wow stunning! Wish I could get this in my country."
19
Jellyfish
Cavallini and Co., 1000 pieces
Vintage style puzzle with an aquatic, jellyfish theme. Several fans proclaim "very cool, interesting puzzle, love it". Others say puzzle is "lovely" and "fantastic."
18
Spongebob Squarepants
Aquarius, 3000 pieces
"Holy moly!" A glorious 3000 piece beast featuring the entire cast of Spongebob Squarepants. Make sure you have enough space to work on, unlike one fan that "had to buy a new table for this one."
17
Bees and Honey
Cavallini and Co., 1000 pieces
Challenging as "there is a lot of beige". Folks love the vintage, "gorgeous" design and puzzle's "good quality", but some were discourage as the "bees were the hardest part."
16
Twilight Garden
Buffalo Games, 2000 pieces
A rainbow spectrum theme puzzle by Josie Lewis of insects and plants. Fans say they "love the colors" and "that's going on my wish list!"
15
Gradient
Clementoni, 1000 pieces
A gradient theme puzzle divided by tiny triangles. Recommendation is to start puzzle in one of the color with fewer colors, such as blue or purple. Fan says it is "fun adventure with a rainbow magic, wasn't too tough."
14
Succulent Rainbow
Buffalo Games, 1000 pieces
A gradient style puzzle made of succulents. It is a challenge and "takes serious sorting", but "once in a groove, it's fun!"
13
Places You Will Go
Buffalo Games, 1000 pieces
"The colors pop so nicely." "Absolutely stunning!" Available in 300, 500, 1000, and 1500 pieces. However, the 1000 is the most popular size for this puzzle.
12
The World of Shakespeare
Laurence King Publishing, 1000 pieces
Praises from fans: "One of my favourite in my collection", "wow I love the art", "easier to put together than I expected." However, there are "soo many intricate details" that some wish the puzzle was 2000 pieces. "Sorting was a little tedious."
11
Rooster
Cloudberries, 1000 pieces
"Wonderful and colorful" puzzle with a "lovely design". One enthused fan said, "Oh, I love the style. You don't usually see that nice clean color lines in puzzles." In addition, several folks praised Cloudberries' quality.
10
Drops of Color
Buffalo Games, 1000 pieces
Gradient style puzzle overlaid with water droplets. Fans thought it is "beautiful", but "got overwhelmed". Recommended to sort by color shades.
9
Puzzle Rainbow
Buffalo Games, 1000 pieces
Yup, this is a puzzle of a gradient puzzle. It is a "jigception." Fans are amazed of the "clever image" and do a "double take." Puzzle is "fabulous, absolutely fantastic" and "challenging."
8
Spring Begins
Lemonade Pursuit, 1000 pieces
Fans are enamored by Susan Nethercote's artwork describing it as "amazing", "gorgeous colors", and "so beautiful." "Pieces are great quality and love the velvety feel." Even though puzzle is "more expensive than what I'd normally pay, totally get it!"
7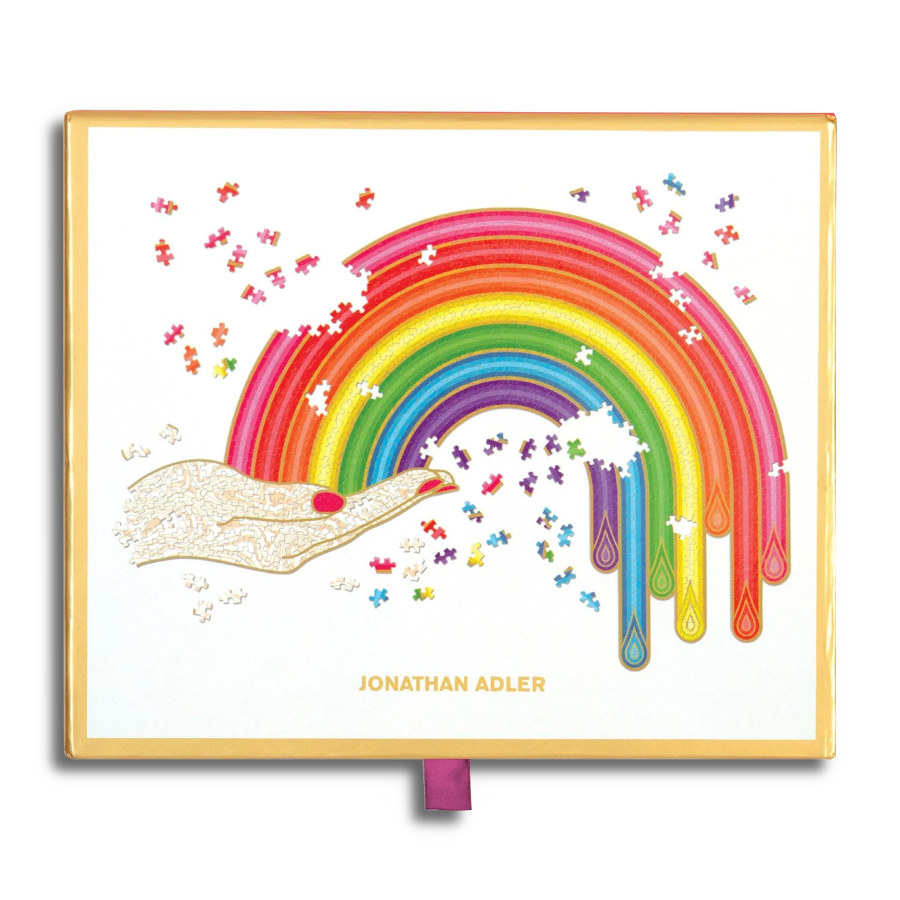 Jonathan Adler Rainbow Hands
Galison, 750 pieces
A favorite that was also on last year's list. Fans raved about the "gorgeous colors" and how its "challenging, but not too challenging. Some folks were concern about the quality initially, but "quality is pretty good, but slightly below what Galison usually produces."
6
Doodle Rainbow
Heye, 1000 pieces
Whats not to like? A rainbow spectrum of funky and funny monsters. Fans proclaimed, "very cute", "love the colors", "awesome quality", and "this is a gradient puzzle that I can get behind."
5
Lips by Jonathan Adler
Galison, 750 pieces
Fans describe the foil shaped puzzle as a "beautiful madness" that they "plan to keep and do again." It has "good interlocking" and the "colors are so juicy and vibrant." Be warned that the "blue waves are deceptively harder than it looks."
4
If Fish Could Walk
Ravensburger, 2000 pieces
Artwork by Demelsa Haughton. The puzzle earns high marks from fans, such as "I don't know how this puzzle could be any more perfect!", "this one is definitely going down as a favorite!!", and "my favorite puzzle of all times." People are "obsessively looking everywhere for this puzzle."
3
Lego Rainbow Bricks
Chronicle Books, 1000 pieces
A gradient style puzzle fashioned out of Lego bricks. Fans shared that puzzle is "very fun and relaxing", "the nice distinct colors are easy to pick out", and "one of the easiest 1000 piece" gradient puzzle around. However, several mentioned "average quality" that "pieces got bent a lot and didn't interlock well unlike real Lego."
2
Krypt Black
Ravensburger, 736 pieces
The Krypt collection is the epitome of challenge puzzle and will test your patience. Krypt Black has the most number of pieces. Fans describe puzzle as "daunting", "intimidating", and that "black part is a pain". Others "loved and hated it" and "highly recommended" it.
1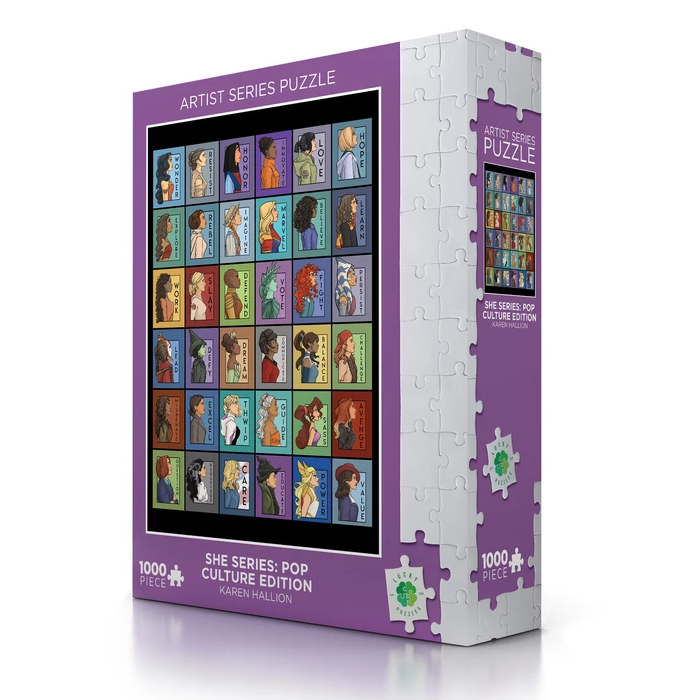 She Series: Pop Culture
Lucky Puzzles, 1000 pieces
Artwork by Karen Hallion celebrating women from pop culture is "serious and aspirational". "The quality is surprisingly good and the pieces are all irregular." Fans proclaimed puzzle is "powerful" and a "must have." Thwip!
The Best Jigsaw Puzzles of 2021