Explores the back canals of Venice away from the touristy spots.
Features famous Venetian landmarks and iconic imageries.
Straightforward and relative fast solve for 750pc puzzle.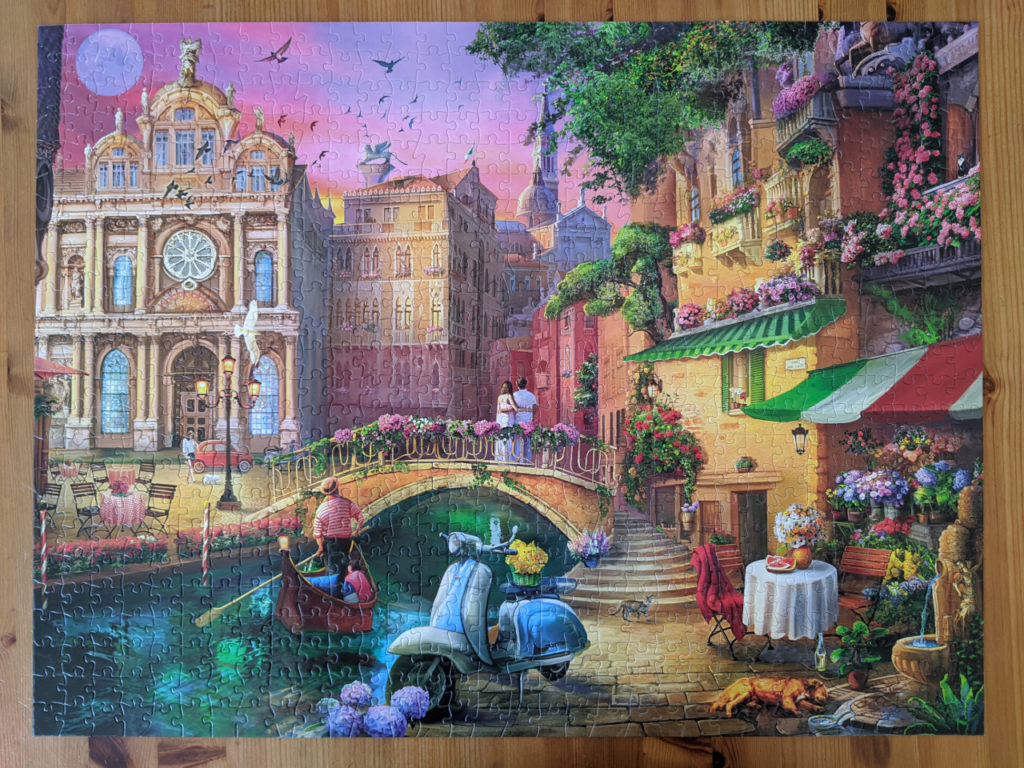 Title: Venice Color
Pieces: 750
Artist: Liliia Butenko
Size: 24in x 18in or 61cm x 46cm
Company: Buffalo Games
Year Printed: ?
Venice is one of those iconic cities romanticized for its unique location and scenery. It is built on over 100 small islands separated by canals and connected by over 400 bridges. The city has been featured in many prominent films and plays, such as Shakespeare's The Merchant of Venice. Because of Venice's popularity, it is also inundated with tourists and very touristy. However, Venice Color depicts a romantic exploration of Venice's back canals away from tourists. It features famous landmarks, such as the The Lion of Venice, St. Mark's Campanile, and St. Mark's Basilica in the background, while focusing on a quaint cafe next to a serene canal. In comparison to Venice La Dolce Vita, this illustration is more down to earth and gives you sensation of exploring Venice's back canals.
Build
The sorting strategy was fairly straightforward, which consisted of five main areas. The first was the border. Second and third were the sky and canal respectively, because of their distinctive colors. Fourth was the buildings and within the buildings there were three distinctive sections based on the different color tones. Lastly was the green garden and foliage on right side of the puzzle, which included the Italian flag colored canopy.
Difficulty
Overall, a fairly straightforward puzzle to solve. It took four puzzlers two hours and fifteen minutes (2:15:33) to complete the puzzle. Compared to London Rains, a puzzle with similar artistic style and size, Venice Colors was a literal walk in the park or by the canal to solve. The green garden foliage was probably the most difficult portion of the puzzle.
Finally, Venice Colors is the 57th puzzle from our 87 puzzle collection. It is part of the Cities in Color collection. Leave us a comment if there are any other Cities in Color puzzles that you would want us to review. Be sure to check out the other puzzles of iconic world cities, such as London, Paris, and Venice.
Venice Color Is a Quick Romantic Exploration