Another summer activity that we love to do is to visit Disneyland. Our last trip was almost a year ago. To help influence our parents to take us there again, we decided to work on a Ravensburger Disney puzzle, titled Wonderful Word of Disney 1. This will be our eighth puzzle from our huge 87 puzzle collection and second round puzzle.
Title: Wonderful World of Disney 1
Pieces: 1000
Artist: Disney
Size: 27in or 68cm round
Company: Ravensburger
Year Printed: 2008
Content:
We love the illustration for the Disney puzzle as there are many characters that we really like. Hana's favorite is Mary Poppin, while Chloe's favorite is Tinkerbell. The illustration depicts the main characters from the first set of Disney movies released from 1937 to 1967. The name of the movies are displayed along the puzzle's border.
Snow White, 1937
Pinocchio, 1940
Fantasia, 1940
Dumbo, 1941
Bambi, 1942
Cinderella, 1950
Alice in Wonderland, 1951
Peter Pan, 1953
Lady and the Tramp, 1955
Sleeping Beauty, 1959
101 Dalmatians, 1961
Mary Poppins, 1964
The Jungle Book, 1967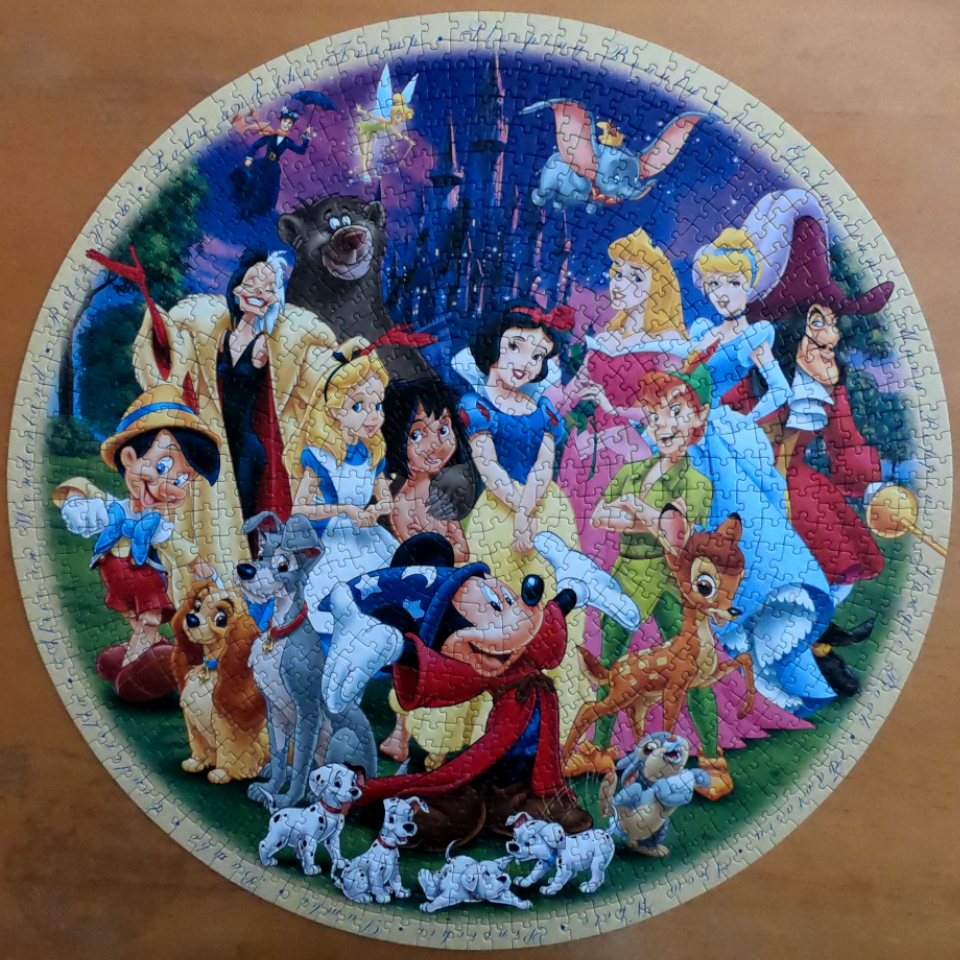 Quality:
Ravensburger puzzles have premium quality. The pieces are thick, made of blue chipboard, printed on linen paper, and interlocks well together. Even for a round puzzle the quality is consistent with the rectangular puzzles.
Difficulty:
Wonderful World of Disney 1 is a round puzzle and historically, we have found round puzzles to be more challenging than the standard rectangular puzzles. We're not sure why. Maybe because, we're not as familiar with them as this is our second round puzzle or there are no straight edges. While most of the picture have distinctive patterns, the color red and yellow were repetitive and appeared on multiple characters.
Build:
Our initial strategy was to find all the border pieces as they are colored yellow and have names of the movies on them. Next step was to sort for major distinctive characters, such as the Baloo, Dalmatians, Bambi, and Sleeping Beauty. In the actual round puzzle build, the border took longer than we anticipated, because the repetitive yellow color pieces were difficult. Overall, it took us 7 hours and 39 minutes to solve the puzzle among three people, about twice as long as a rectangular 1000 piece puzzle.
If there are any other Ravensburger Disney or round puzzle that you would like for us to review, please, leave a comment.
Ravensburger Disney Puzzle | Wonderful World of Disney 1