We thought that a cat jigsaw puzzle would be fun to work on while camping. So, we selected Doorstep Raiders, a 750 piece puzzle in Buffalo Games' Cats Collection. Doorstep Raiders is the fourteenth puzzle from our massive 87 puzzle collection. Find out if this cute puzzle was easy to solve or not.
Content: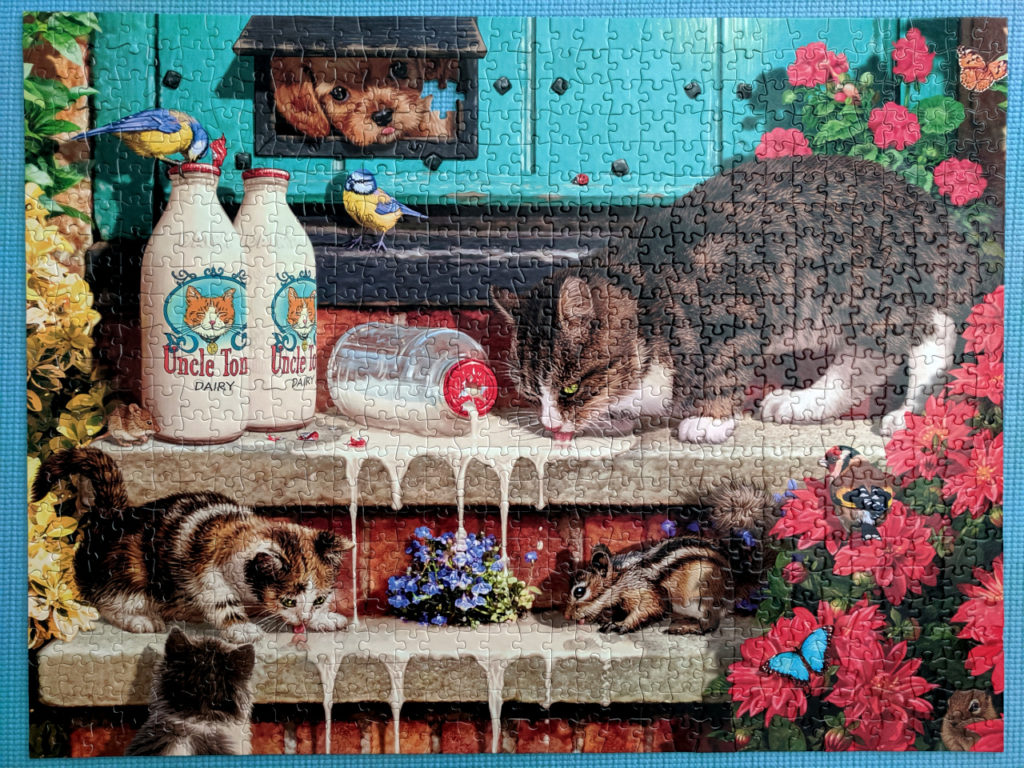 Title: Doorstep Raiders
Pieces: 750
Artist: Steve Read
Size: 24in x 18in or 61cm x 46cm
Company: Buffalo Games
Year Printed: ?
Stylistically, the illustration is similar to Steve Read's Ice Cream Raiders puzzle. The whimsical illustration depicts blue tits (birds) and cats raiding milk bottles left on door steps will a hapless puppy looks on. Here is a fun fact, during the 1950s, blue tits learned to punctured the foil on the milk bottle to gain access to the rich cream. The birds are actually lactose intolerant and didn't drink the milk but only the cream. With the decline of home milk delivery and introduction of skim milk, blue tits hardly raid milk bottles anymore.
Build:
Our strategy for solving the puzzle was to identify the border and major patterns to sort first. We decided to sort for border, the turquoise colored door, milk bottles, flowers, and animals pieces. In addition, we started working on the puzzle during a camping trip, which required us to roll up the puzzle to free up space on the picnic table and secure it from animals.
Unfortunately, one of the puzzle piece was missing. We are not sure if the piece was lost when we rolled up the puzzle and stored it, during transport, or because it was a used puzzle. Unfortunately, our campsite was hundreds of miles away, so hard to check if the piece was left there.
Difficulty:
Doorstep Raiders is deceptively more difficult than it looks. It is more difficult than some other 1000 piece puzzles that we've worked on. Unfortunately, we did not use a timer to track the total time as we started working on the puzzle during a camping trip. The most difficult parts were the furs of the cats and chipmunks. It was difficult to visually distinguish which fur piece belonged to which animal or where on the animal. The last part to complete was the large cat. We used systematic trial and error via the shape of the pieces.
Quality:
Buffalo Games' puzzle have good quality. The chip board is gray, thick and snaps easily in place with each other. The interlocking is decent as multiple pieces will hold together when being moved most of the time, but some will come part. The illustration is printed on glossy paper.
Please, leave us a comment if there are other jigsaw puzzles with cats that you like us to review.
Doorstep Raiders | Cat Jigsaw Puzzle