Features a gray tabby dozing on a colorful quilt in a garden shed.
Illustration by Steve Read and is adorable and "puntiful".
Moderately challenging Cats Collection puzzle.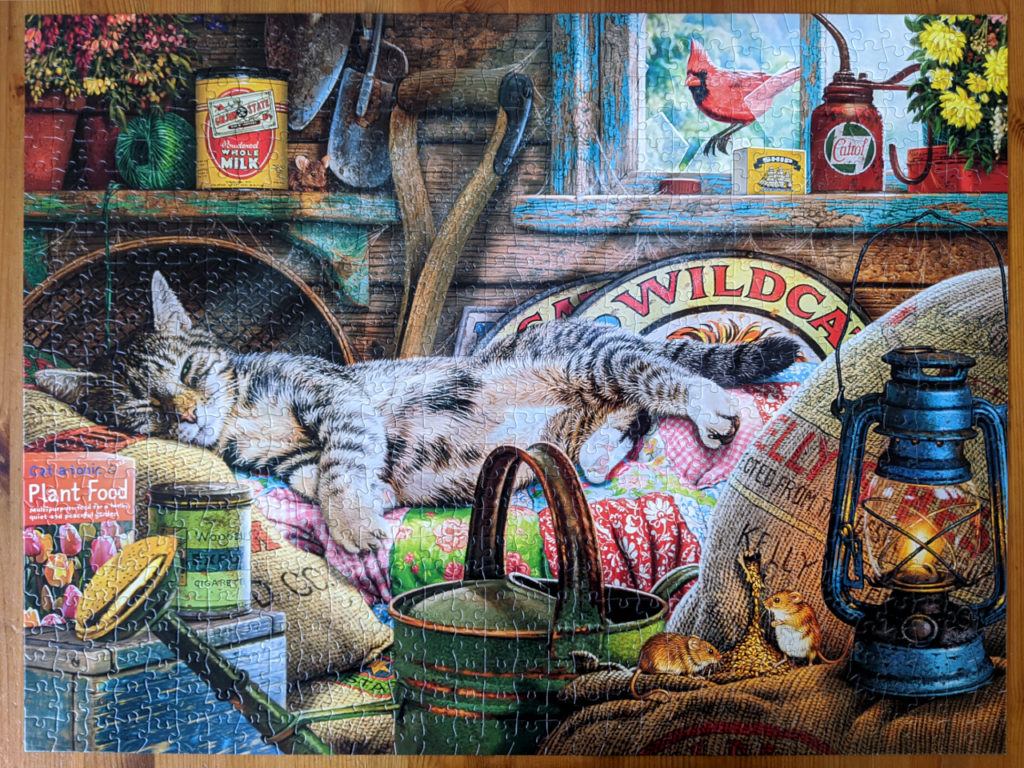 Title: Laid-Back Tom
Pieces: 750
Artist: Steve Read
Size: 24in x 18in or 61cm x 46cm
Company: Buffalo Games
Year Printed: ?
Laid-Back Tom is the last Cats Collection puzzle in our current collection. Overall, I have really enjoyed all the Cats Collection puzzles that we have solved. The puzzles are actually harder than they seem, especially for 750 piece jigsaw puzzles. Some of Cats Collection puzzles took us longer to solve than some 1000 piece puzzles.
As for Laid-Back Tom, the illustration features a gray tabby dozing on a colorful quilt inside a garden shed. The sleepy cat has no care in the world, especially with the tiny mice helping themselves to seeds. Another fun part is the pun on the "Cat-a-tonic" branded plant food and "Catrol" oil vs Castrol.
Build
The tabby was probably the easiest part to sort, because it was the only gray fury pattern in the illustration. The window sill was also easy to sort, because the light blue color is unique from the rest of the illustration. The burlap bags were somewhat difficult, because of the different burlap patterns and overlap with other patterns, like word and objects. The wall and tools were sorted as a group, because they shared similar color, a solid rust brown.
Difficulty
As for difficulty, the two hardest parts were the cat and the burlap bags. The cat's hair was hard to tell where it was on the cat. There were many burlap bags and was difficult to distinguish which bag. Easier parts to solve were the window sill and parts that had words. Overall, it took us less than two hours (1:57:36) to complete. Much faster than other Cats Collection puzzles, but still challenging.
All in all, I recommend this puzzle if you really like cats and what a moderately challenging puzzle to solve. If you really enjoy cat puzzles, then try out all the Cats Collection puzzles. My favorite part of the puzzle was the gray tabby cat lying on the pile of blankets. Our family had a great time solving this puzzle.
Lastly, Laid-Back Tom is the 51st puzzle from our 87 puzzle collection. Leave us a comment if there are any new Buffalo Games Cats Collection puzzle that you would want us to review.
Relaxing With Cats Collection Puzzle, Laid-Back Tom