Magic Castle is a 750 piece jigsaw puzzle from Buffalo Games
Features an golden palace with ornate roofs and minarets.
Above average difficulty to solve.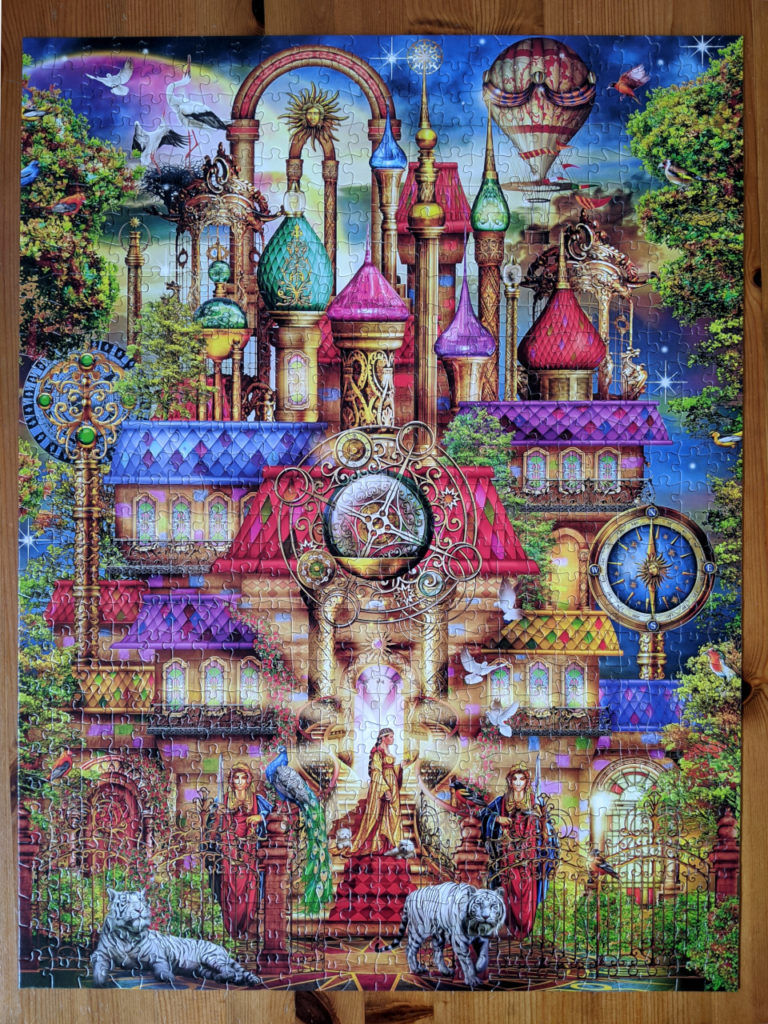 Title: Magic Castle
Pieces: 750
Artist: Ciro Marchetti
Size: 18in x 24in or 46cm x 61cm
Company: Buffalo Games
Year Printed: ?
Magic Castle is a seven hundred fifty piece jigsaw puzzle from Buffalo Games and part of the Majestic Castles collection. The illustration is by Ciro Marchetti and laid out in a the portrait (vertical) orientation. Interestingly, Ciro also illustrated the Enchanted Castle and both illustrations are similar to each other. Both have a vertical orientation with castle centered in the illustration surrounded by foliage and populated with an assortment of animals. In addition, both have a golden hue and bluish tone. However, the Enchanted Castle seems more grand and colorful with a majestic rainbow bird and unicorn.
Build
Sorting was fairly straightforward. The border was sorted first as it is always easier to distinguish in a standard rectangular puzzle, even when it is vertical. Next were people and animals, because of their unique patterns. Followed by pieces with circular patterns, such as the compass, balloon, and arch. Lastly, the color tiled roof and minarets were sorted because of their distinguishable repetitive patterns. However, the foliage probably accounted for about 25% of the puzzle and were the main pieces left in the unsorted pile.
Difficulty
Magic Castle was somewhat difficult to solve as there were lots of areas with repetitive patterns. For example, several of the minarets and roofs had similar colors and patterns. It took the four of us a little over two hours and forty five minutes (2:46:17). In comparison to Enchanted Forest, it took us an additional one and quarter hour longer to complete for 250 more pieces. Another example of how large puzzles (number of pieces) takes exponentially more time to solve and not linearly. Even tough, Magic Castle was somewhat challenging to solve, my overall enjoyment was lukewarm. Was not overly excited or discouraged by it, just meh. However, for folks who enjoy mystical imagery and theme, then this puzzle is for you.
Lastly, Magic Castle is the 52nd puzzle from our 87 puzzle collection. Leave us a comment, if there are any other Majestic Castles Collection puzzle that you would want us to review.
Magic Castle Needs More Magic