Heye jigsaw puzzle, Wonderwoods, is both a challenging and fun puzzle to solve, because of the 1500 piece count and colorful illustration. This was our first Heye jigsaw puzzle and 1500 piece puzzle. Furthermore, Wonderwoods is the third puzzle that we have solved from the 87 puzzle collection.
Title: Wonderwoods
Pieces: 1500
Artist: Rita Berman
Company: Heye
Year Printed: 2017
Content:
The illustration shows a magical forest with animal and birds going about their daily life in the Wonderwoods. It is full of bright colors, distinctive shapes, and lots of repetitive patterns, such as leaves, trees, and tree trunks. The whimsical illustration conveys how joyful and magical it is for the animals to live together in the woods.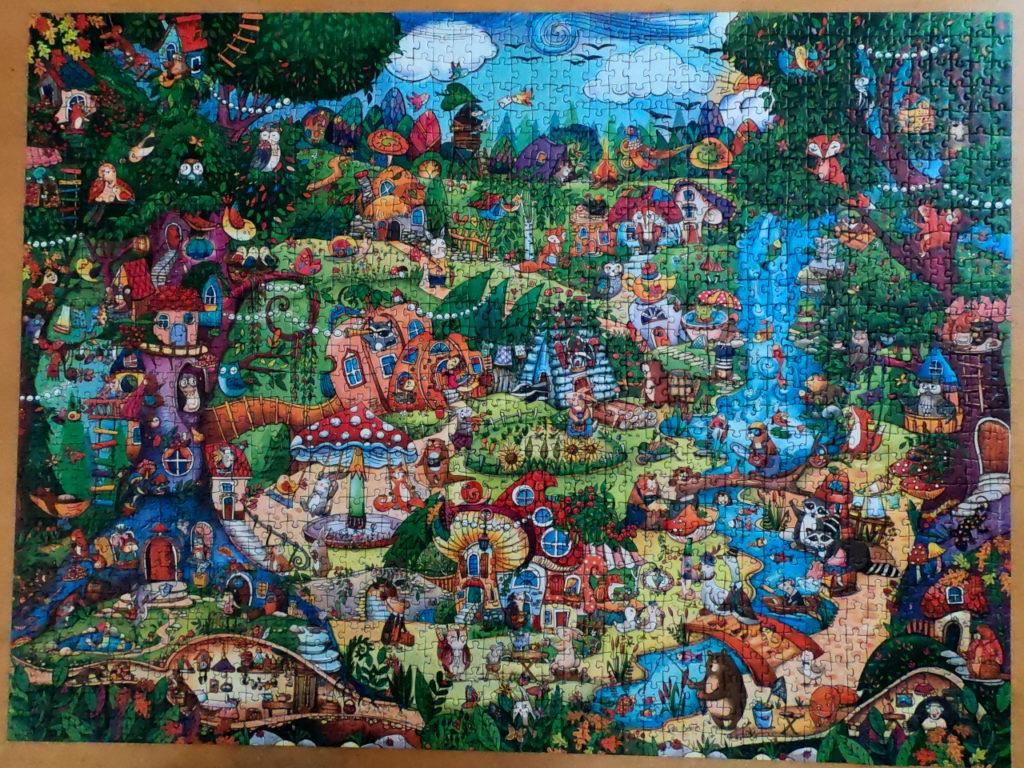 Quality:
Heye jigsaw puzzle is of good quality. The illustration looks like it is printed on linen paper with a blue backside vs the standard matte paper. The pieces fit easily together, however, the interlocking is loose and pieces can easily come apart. In addition, the puzzle provides a huge poster so multiple puzzlers don't have to share just one illustration. We taped up the poster on a nearby wall, so we can easily reference it while solving the puzzle. The puzzle comes in a triangular, which is distinctive.
Difficulty:
Two key things made this puzzle challenging to solve. The puzzle has 1500 pieces, which inherently takes more time than 1000 piece as there are just more pieces to sort and put together. Secondly, the illustration has repetitive pattern that takes up significant portion of the puzzle, such as the leaves, trees, and tree trunk. To solve the puzzle, we had to reference the illustration numerous times. In total, it took us seven hours over a week with three people to solve.
Our strategy for solving the puzzle was to first sort by border pieces and pieces with distinctive patterns, such as sky, water, leaves, tree trunk, berries, and buildings. In hindsight, we could have done a better job of sorting into more granular piles and moving those pieces aside to free up space on the table. Next, we assembled the border and any of the main distinctive pieces, such as sky, water, buildings. The leaves, trees, and tree trunks were the hardest. Overall, a great puzzle to work together with other people.
If there are other Heye jigsaw puzzles that you want us to review, then leave us a comment.
Heye Jigsaw Puzzle | Wonderwoods