Ice Cream Raiders is part of Buffalo Games Cat Collection, which focuses on pictures with cats in it. This puzzle is the second puzzle that we solved from the 87 puzzle collection. We chose this puzzle as we like ice cream and cats. So, if you like cats and ice cream, this puzzle is definitely for you.
Title: Ice Cream Raiders
Pieces: 1000
Artist: Steve Read
Size: 24in x 18in or 61cm x 46cm
Company: Buffalo Games
Year Printed: 2018?
Content:
We love the picture as it is very funny and full of puns. In the upper left, there is Tom and Jerry's ice cream, which is parody of Ben and Jerry's ice cream and I Scream in the center is a pun for Ice Cream.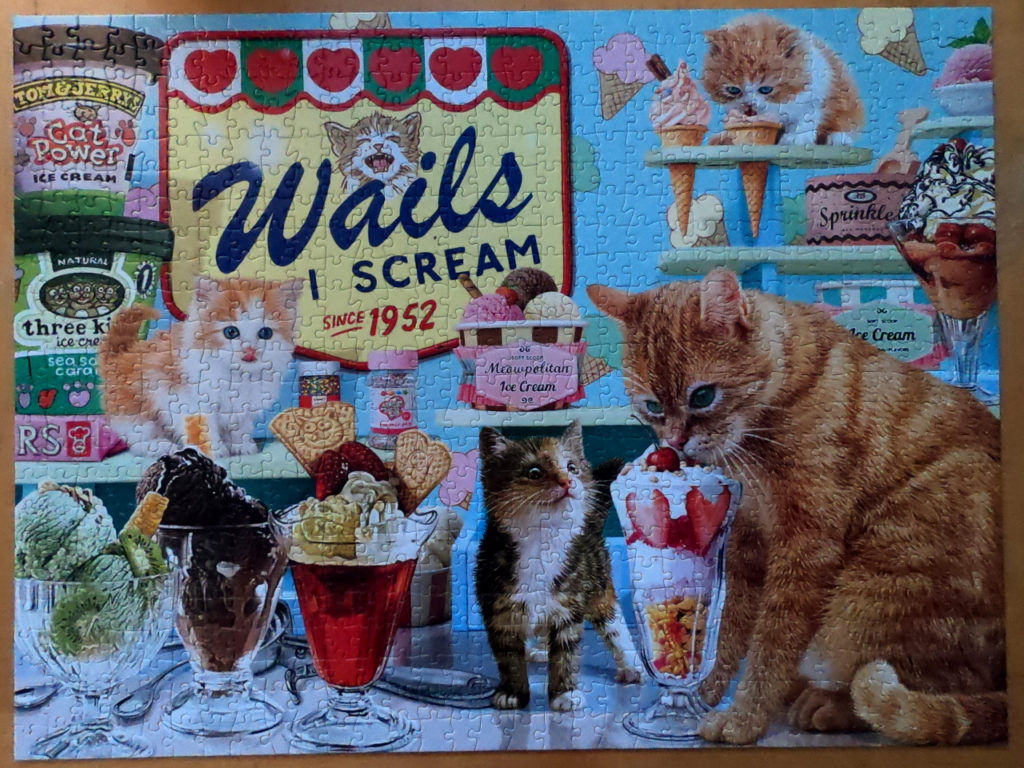 Quality:
Puzzle quality is similar to other Buffalo Game pieces. The pieces have a gray back chipboard and decent interlocking. It is possible to lift the entire puzzle up when completed. 750pc individual puzzle pieces are larger than 1000pc puzzle pieces, even though the 750pc is a bit smaller than the 1000pc puzzle. As with all Buffalo Games, they include a poster of the puzzle image.
Difficulty:
The picture has enough distinctive color and patterns to easily sort the puzzle pieces. However, there are repeating patterns, such as the two kittens that look similar to each other, glass stems, and the lime green shelves. The hardest part, was the large tabby. This puzzle took two persons to complete the puzzle in a little over one and half hours.
Overall, a funny and full of pun puzzle that took around 1.5 hours for 2 persons to finish. Let us know if there are any other Buffalo Games Cats collection puzzle that we should review.
Buffalo Games Cats Collection | Ice Cream Raiders