Illustration is an altered version of Wysocki's original Olde America.
"Greenified" to give it more of an vibrant early autumn feel.
Moderately challenging, similar to other Wysocki puzzles.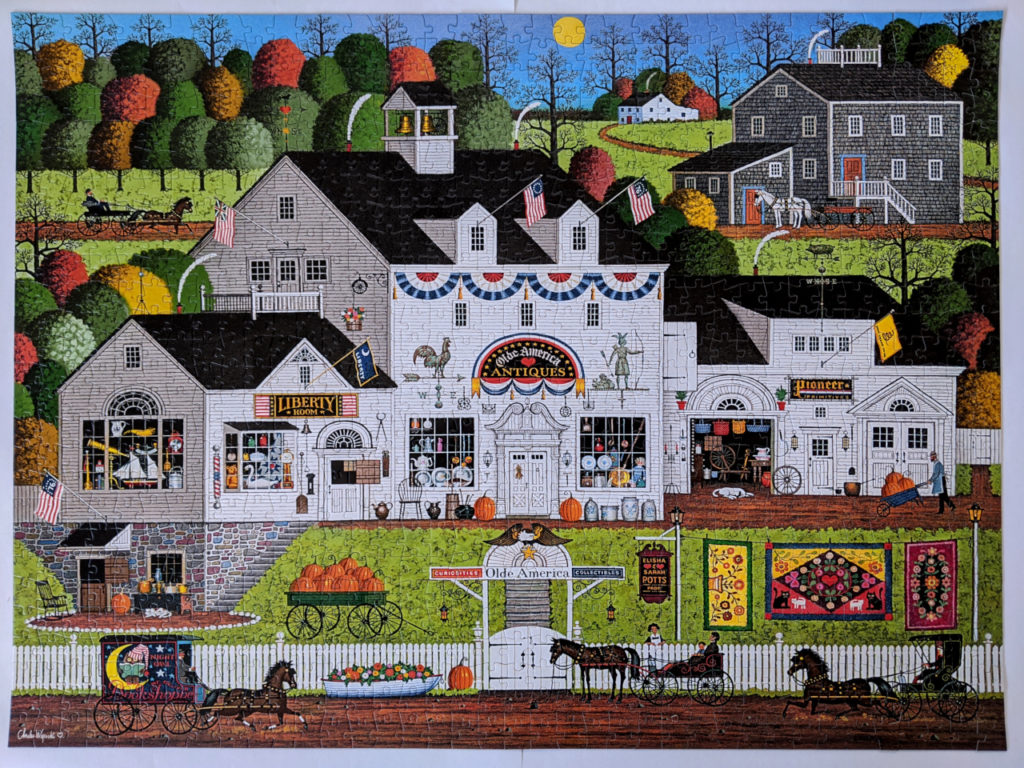 Title: Olde America
Pieces: 1000
Artist: Charles Wysocki
Size: 27in x 20in or 68cm x 50cm
Company: Buffalo Games
Year Printed: ?
Wysocki's Americana primitive style paintings consist of a main theme with supporting imagery of early American culture, such as flag, horses, and wagons. For example, Prairie Wind Flowers and Honey Pumpkin Valley are two Wysocki puzzles with a similar Americana primitive style.
Indeed, the puzzle's main theme is that of an antique store on a bright, sunny autumn day. However, the illustration is different from the original Wysocki's Olde America painting, as shown below.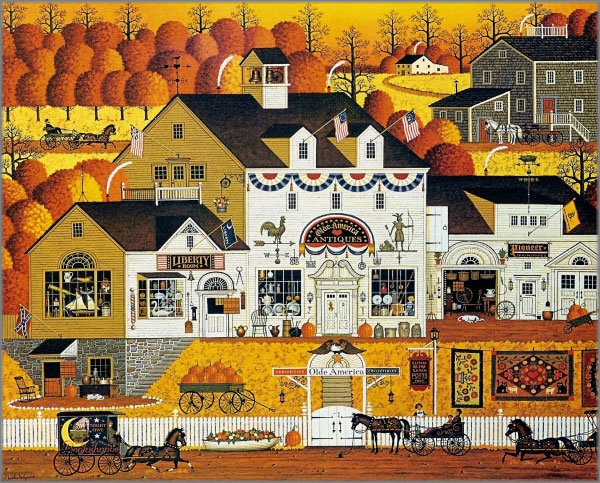 Specifically, the original painting's color palette has a strong orange tone. Thus, Buffalo Game used a modified version of the original painting. Additionally, the Confederate flag (left side) was also replaced with an American flag. Milton Bradley used the original illustration in two of their 1000 piece puzzles.
Build
Initially, pieces were sorted into the following categories: border, background (sky, trees), foreground (fence, quilts, and dirt paths), and the buildings (antique store and gray house). Secondly, pieces were assembled in a similar order. Lastly, the antique shop probably accounted for half of the entire puzzle.
Difficulty
Overall, a moderately challenging puzzle. It took three puzzlers about three hours and twenty five minutes (3:22:35) to finish, which is about the same amount of time as other Wysocki puzzles.
Finally, this is the 38th puzzle that we've solved from our 87 puzzle collection. Leave us a comment if there are any other Charles Wysocki puzzles that you would want us to review.
See How Wysocki's Olde America Was Drastically Changed?