Paris in a Day is our first eeBoo puzzle that we got for our birthday. We have really enjoyed putting this puzzle together multiple times. The picture is very colorful and shows famous landmarks, like Notre Dame and Eiffel Tower, with people going about their daily activities in Paris. Hope you enjoy the time lapse video of the puzzle build.
Title: Paris in a Day
Pieces: 1000
Artist: Jennifer Orkin Lewis
Company: eeBoo
Year Printed: 2018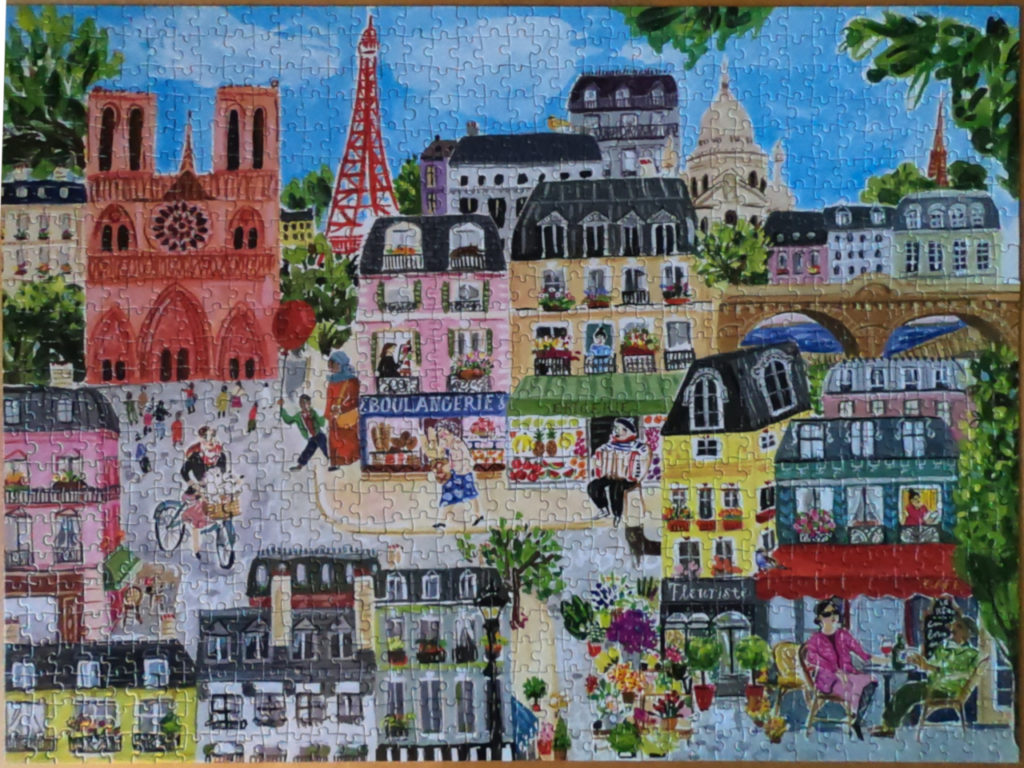 Content:
Paris in a Day shows a painting by Ms. Lewis with famous landmarks, like Seine River, buildings, and people throughout Paris. We really like the flower shop with all the colorful colors. The artwork has nice combination of both hard and easy areas.
Quality:
The puzzle pieces are of good thickness with alright interlocking fit. It is possible to lift and move sections of the puzzle, but not the whole puzzle. We like that the puzzle came with a picture insert, so the two of us can use the insert or the box cover to help solve the puzzle.
Difficulty:
The puzzle is of common rectangular shape and comes in one thousand pieces. We sorted the pieces by edges, famous landmarks, colorful buildings, flowers, sky, trees, and misc buildings. As this was our third time building the puzzle, it was not too difficult. The gray colored roofs are still the hardest part to put together and usually the last pieces that we finish.
Overall, this is a fun puzzle to build. If you have not solved a 1000 piece puzzle before, this would be a good choice. The pieces for the famous landmarks are easy to find and put together, while the buildings are more challenging to put together.
Leave us a comment, if there are any specific eeBoo puzzles that you would like us to review.
Paris in a Day | 1000 Piece eeBoo Puzzle