We enjoyed solving Venice la Dolce Vita, a Jumbo puzzle in the Wanderlust Collection, and thought that the Paris one would be just as fun, especially with the all the pastries and baked goods. This is our ninth puzzle from the huge puzzle collection, which means we have completed more than 10% of the collection.
Content:
The view point for Bonjour Paris' illustration is from inside the patisserie (bakery that specialize in sweets) looking out into Paris, France. The Eiffel Tower is noticeable in the background. Other stores and hotels are also visible in the background along with French flags. The baked items in the patisserie, such as macrons, are vivid and quite delectable.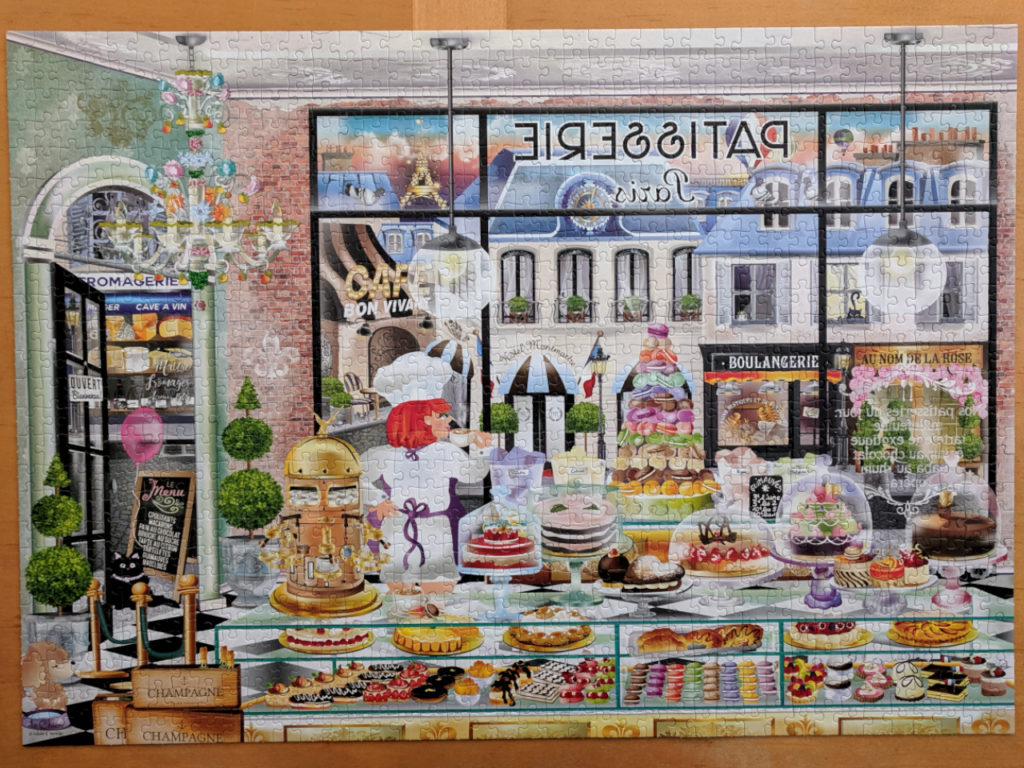 Title: Bonjour Paris
Pieces: 1000
Artist: Kozak & Verduijn
Size: 27in x 19in or 68cm x 49cm
Company: Jumbo
Year Printed: 2018
Quality:
The quality of Jumbo puzzles are at a premium level. The pieces have a lighter feel and tighter interlocking than compared to Ravensburger puzzles. The pieces are made of light blue chipboard, while Ravensburger pieces have a darker shade of blue.
Build:
In line with our core strategy, our plan for Bonjour Paris was to sort the pieces for by borders and major distinctive patterns, such as the walls, ceiling, background, and the pastries. Surprisingly, we discovered that the pastries were not that difficult and completed them soon after the border. The last portion completed was the buildings in the background. Overall, it took two puzzlers 3 hours and 39 minutes to solve the puzzle.
Difficulty:
Bonjour Paris is a standard rectangular shaped 1000 piece puzzle. The illustration has numerous straight lines, such as the ceiling, window, and walls, which makes the puzzle somewhat easier to assemble as the lines are a visual guide to solving the puzzle. The most challenging part of the puzzle is probably the pastries and baked goods as they are numerous and have a repetitive pattern.
If there are any other 1000 piece Jumbo puzzles that you would like for us to review, please leave a comment and let us know.
Jumbo Puzzle 1000pc | Bonjour Paris