The Artist's Desk is a 1000 piece Ravensburger puzzle and shows a coloring book and all sort of drawing tools, such as pens, pencils, and paints. This is our second Ravensburger puzzle that we've worked on and the fifth from the huge 87 puzzle collection. Watch the twins review of the puzzle with time lapse of the build.
Title: The Artist's Desk
Pieces: 1000
Artist: Aimee Stewart
Size: 27in x 20in or 70cm x 50cm
Company: Ravensburger
Year Printed: 2017
Content:
We love to draw and the picture resonates with us as it has very vibrant colors. The illustration shows an artist's cluttered desk with a coloring book that is partially completed, numerous color pencils, paint, and pens, and a cup of coffee with colorful macaroon around it. It is very vivid and colorful. Most of the patterns are distinctive, except for the pencil shavings and corner patterns with the blue drawing.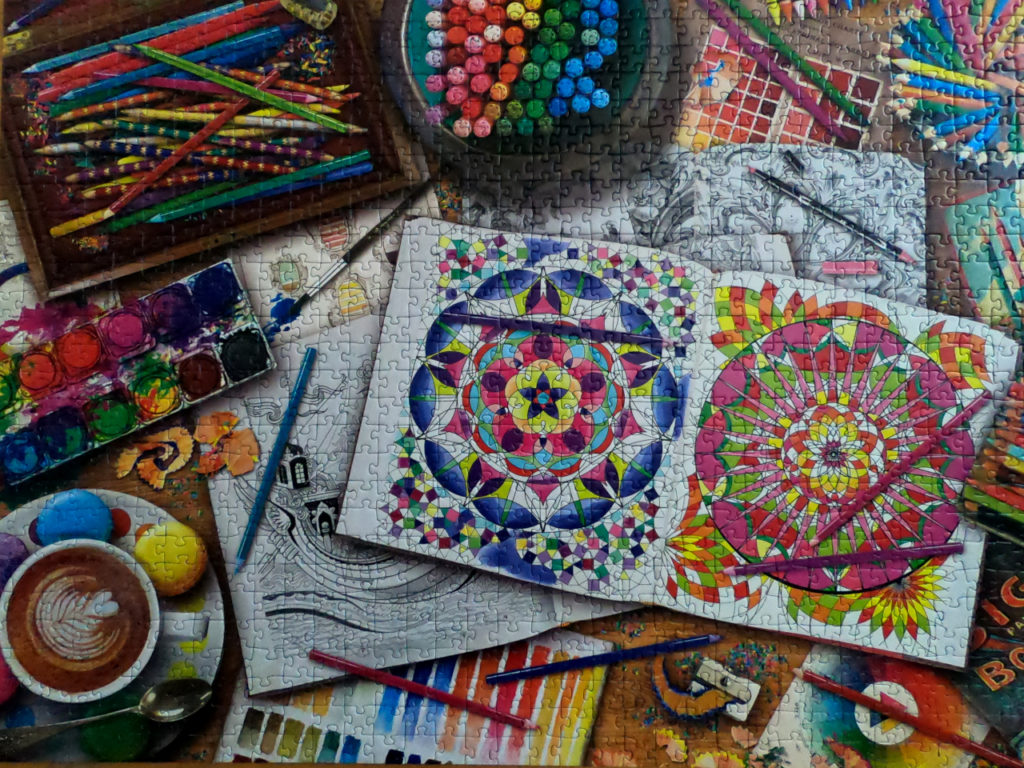 Quality:
Ravensburger puzzles are known for their premium quality and this puzzle met that standard. The puzzle pieces are thick and made of light blue chipboard. The picture is printed on fine linen paper. The puzzle interlocks well together as demonstrated by Hana and Chloe lifting the puzzle off the table. Lastly, Ravensburger puzzles include a poster insert, which takes up less space than a puzzle box cover.
Difficulty:
The Artist's Desk is a standard rectangle puzzle and has average level of difficulty. The illustration contains more distinctive patterns than repetitive patterns to help puzzlers. For example, there are lots of color pencils in the illustration. However, the straight edges of the pencil provides a guide to connect other pieces together. The blue patterns on the coloring books were the most repetitive and difficult.
Build:
Our initial strategy to solve the puzzle was to sort by border pieces and the key distinctive pattern, such as the cup of coffee and color pens. Before we finished sorting pieces, we went ahead and assembled the cup of coffee and color pens, then the borders. The coloring book was the last part we completed. In total, it took us four hours to complete the puzzle. Overall, a fun Ravensburger puzzle for anyone who also enjoys drawing and coloring.
If there are other Ravensburger puzzles that you want us to review, then leave us a comment.
Ravensburger Puzzle | The Artist's Desk | 1000 Piece