Whimsical gift shop located in a rainbow painted fishing boat.
Packed full of vibrant colors and numerous tiny details.
Very challenging puzzle due to higher difficulty with sorting.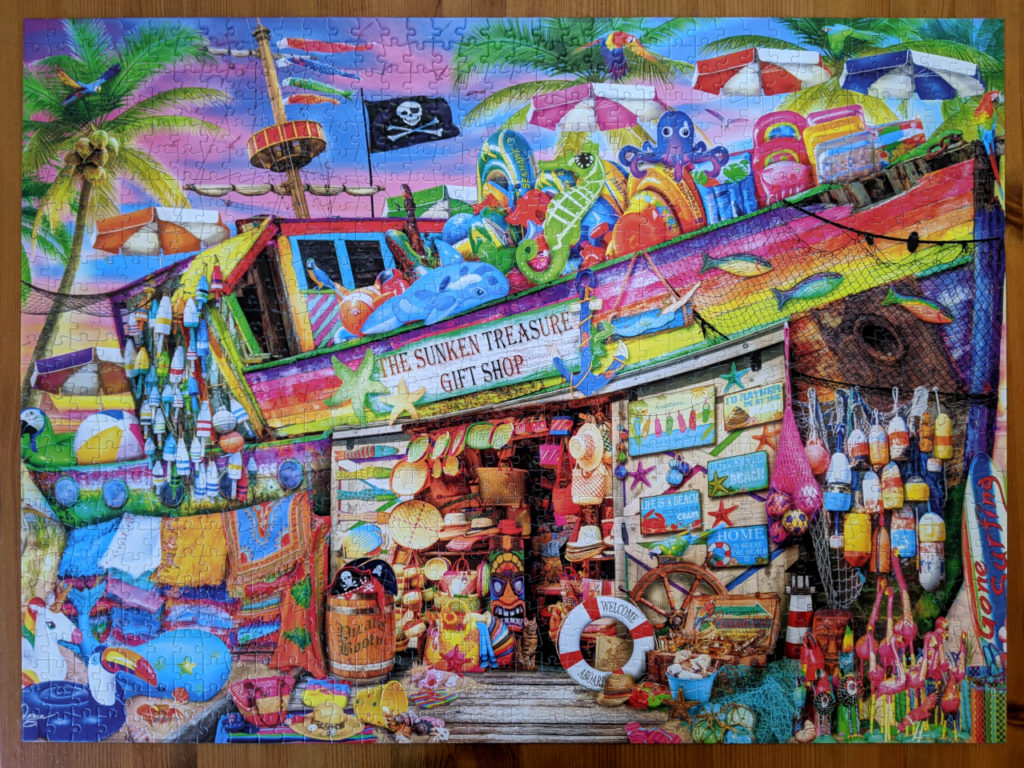 Title: Sunken Treasure
Pieces: 1000
Artist: Aimee Stewart
Size: 27in x 20in or 68cm x 50cm
Company: Buffalo Games
Year Printed: ?
Sunken Treasure sank our initial enthusiasm for this puzzle. Definitely one of the more challenging Aimee Stewart puzzle that we have ever worked on. Initially, the puzzle seemed attractive to us, because of vibrant colors and whimsical theme. However, we quickly learned that the puzzle was more challenging than anticipated.
Build
The initial sorting strategy was to identify sections of the puzzle with similar themes and patterns. For example, the sky section has an unique color (purple haze), and details specific to that section, such as palm trees, parasols, the boat's crow nest and mast, and a pirate flag. In the end, we identified seven main sections: the border, sky, shop sign, inflatables, buoys, shawls and gift signs, and shop entrance with trinkets. The plan was to sort and group the pieces by those identified sections. However, sorting did not go according to plan.
Difficulty
Overall, took four puzzlers almost four hours and twenty five minutes (4:24:38) to complete the puzzle. On average, takes us two and half hours to solve a 1,000 piece jigsaw puzzle The easier parts to sort and build were the border, signs and any pieces with words, and the sky section. However, the more difficult portions had pieces that spanned non-continuous areas, such as inflatables, buoys, and trinkets. Areas with fine details such as the trinkets were even more difficult to sort and build. We abandoned the sorting strategy for those finer detailed areas.
If you are up for a challenge and love a psychedelic-rainbow colored puzzle, then Sunken Treasure is definitely for you. Lastly, this is the 47th puzzle that we've solved from our 87 puzzle collection. Leave us a comment if there are any other Aimee Stewart Buffalo puzzles that you would want us to review.
Sunken Treasure Hunt for Souvenirs