The round vintage puzzle, Castle of Chillon, is one the hardest puzzles that we've put together due to the shape of the puzzle pieces and lack of visual clues, especially with the forested mountain behind the castle. We had to resort to using trial and error to find the correct piece. Needed our dad's help to finish this puzzle. We got this puzzle from a library book sale for 50 cents.
Title: Castle of Chillon, part of Kent series
Pieces: 1000
Artist: Unknown
Company: Milton Bradley
Year Printed: 1967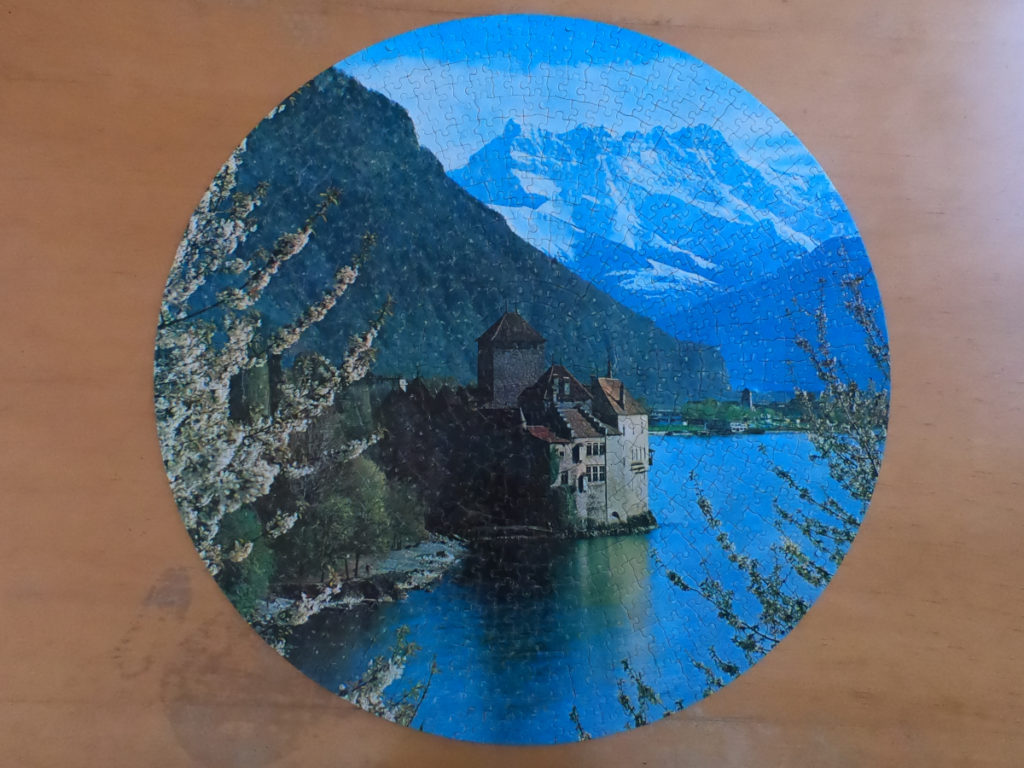 Content:
Artwork is a photograph of Castle of Chillon in Switzerland. The image has muted colors and consisted mostly of shades of green, black, blue, and white.
Quality:
Thick pieces with great interlocking. When puzzle was completed, we could lift the entire puzzle up without it falling apart. As this is a vintage puzzle, there were some wears and tears, but in pretty good shape.
Difficulty:
The puzzle is laid out in concentric circles starting from the center core. However, some of the rings only connected to the next ring in a few locations. The edge pieces were easy to identify as they had a smooth curve vs bumpy curve of the inner rings.
Overall, this was a very difficult puzzle to solve primarily due to it being a circular puzzle and lack of visual clues. Nevertheless, it was fun because it was challenging and felt great when we completed it.
Please, let us know if there are any specific puzzle you would like for us to review.
Round Vintage Puzzle | Castle of Chillon | 1000 Piece