Challenging jigsaw puzzle due to lots of repetitive patterns coupled with symmetry.
Features a mesmerizing illustration that seems to peer into your soul.
Don't strain your eyes and bring plenty of patience.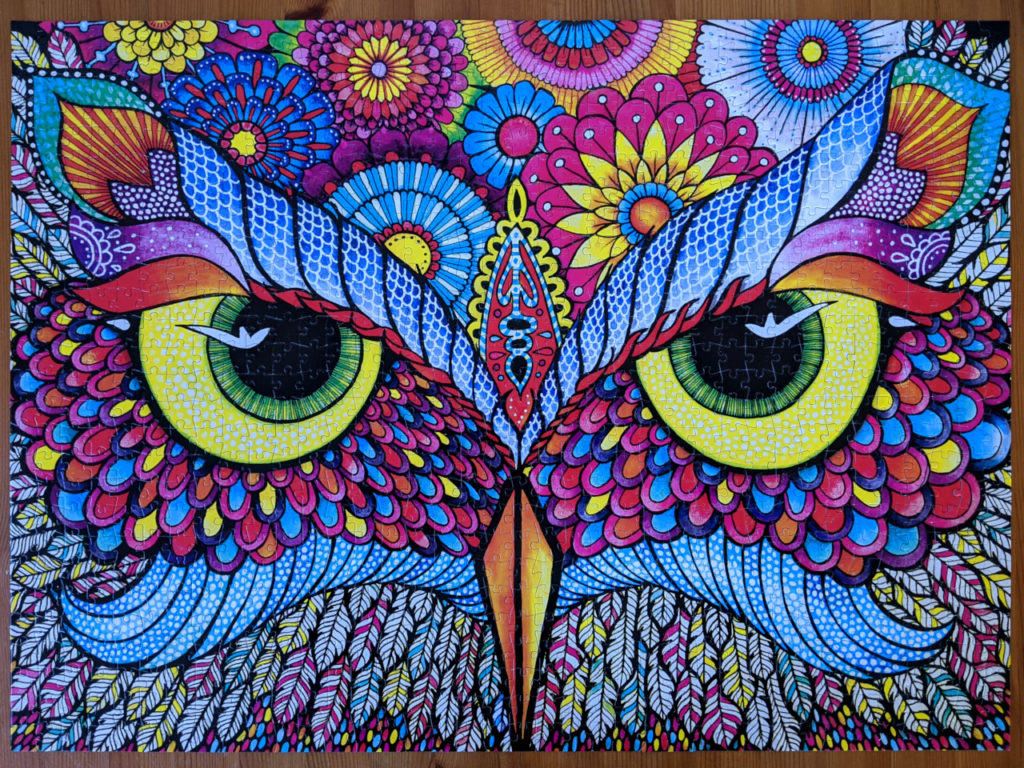 Title: Owl Eyes
Pieces: 1000
Artist: Hello Angel
Size: 27in x 20in or 68cm x 50cm
Company: Buffalo Games
Year Printed: ?
The illustration for Owl Eyes is perfectly titled as it features a pair of owl eyes staring intently back at you. At a first glance, the eyes are mesmerizing and seems to peer deep into your "puzzling" soul. However, upon a closer inspection, most puzzlers will quickly realize what a challenging jigsaw puzzle this is. Firstly, the illustration is full of repetitive patterns, such as the feathers and scales. Additionally, the illustration is very symmetrical, which compounds the challenges with repetitive patterns. Lastly, the color palette is very narrow. As a result, it enhances the difficulty even more and does not offer much help in determining where the pieces go. The illustration does have some unique areas, such as the eyes, ears, beak, and floral patterns between the eyes, beak.
Build
The main strategy used to solve the puzzle were to first sort the pieces into the following groups: edges, eyes, eye brow/ears, floral patterns, scales, feathers, and "whiskers". Next phase was to assemble the pieces. The eyes and eye brow/ear were the first parts to be solved, because of their fairly distinctive colors, and the patterns were not as repetitive. Next was the floral patterns, which were not as repetitive, however, still a bit tricky. The bottom half of the puzzle was last part of the puzzle to be assembled, which included the scales, feathers, and "whiskers". Visually the repetitive patterns caused more confusion than clarity with how the pieces fit together. In the above time lapse video, a lot of time was spent on trial and error assembly, as the remaining pieces looked similar to each other.
Difficulty
It took four puzzlers a total of six hours and four minutes (6:04:00) to complete this super challenging jigsaw. For context, no other 1000pc puzzles that we have reviewed so far have taken this long to solve, except for Wonderful World of Disney 1.
Lastly, Owl Eyes is the 34th puzzle that we've solved from our 87 puzzle collection. Leave us a comment if there other super challenging 1000pc puzzles that you would like for us to review.
Test your patience with super challenging jigsaw puzzle, Owl Eyes