Colorful and eccentric Aimee Stewart illustration of a beach vacation.
A good alternative for anyone nostalgic for a real tropical vacation.
Slightly challenging puzzle due to all the beach activity clutter.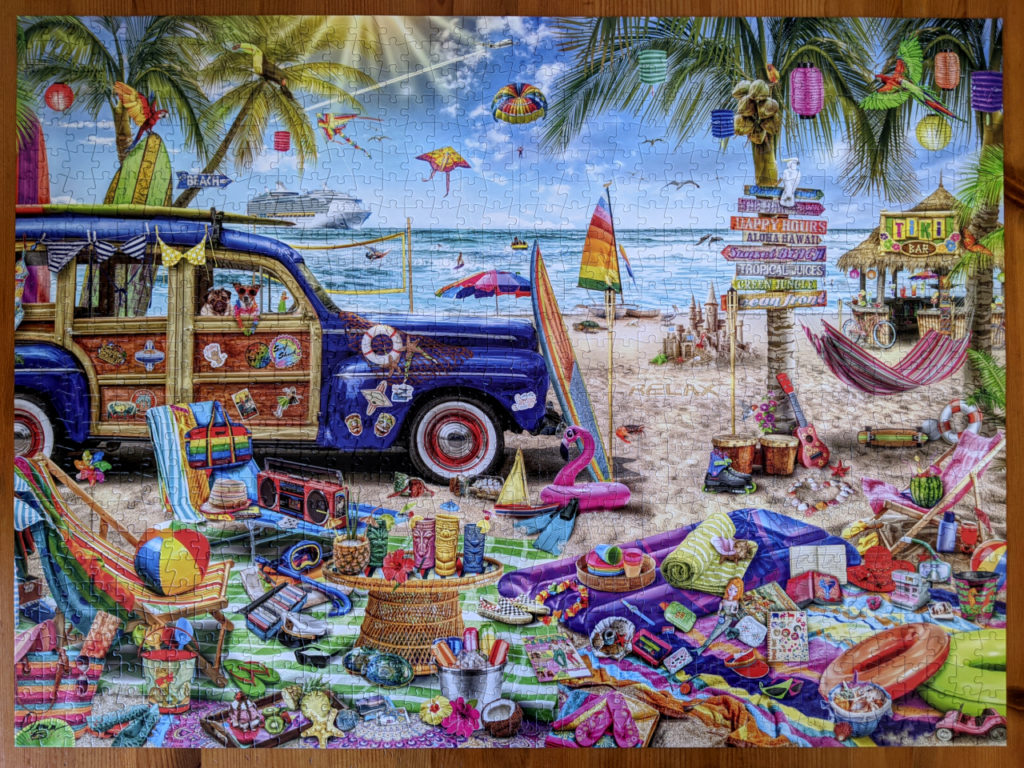 Title: Beach Vacation
Pieces: 1000
Artist: Aimee Stewart
Size: 27in x 20in or 68cm x 50cm
Company: Buffalo Games
Year Printed: ?
Our first impression of the puzzle's illustration was nostalgia for beach vacations, especially of a Hawaiian vacation. Specifically, we rented a beach house on the north shore of Oahu with easy access to the beach. The beach house also had several jigsaw puzzles, which we worked on together at night. Believe one of the puzzles was of seashells.
Build
Similar to Sunken Treasure, another Aimee Stewart illustrated puzzle, the illustration is very busy. However, we noticed four distinctive areas and mapped our sorting strategy accordingly. As with most puzzles, the borders were sorted first. The next sort was for the sky and ocean area, which contained palm trees, paper lanterns, kites, and colorful signs. Another area was the blue car with wooden panel. In addition, the sandy area between the ocean and beach towels with palm tree trunk, hammock, and boom box. Lastly, the bottom area filled with numerous beach activity accessories was sorted last and probably the most cumbersome.
Difficulty
The border, sky, ocean, and blue car were probably the more easy area to solve, because of uniform color and patterns. The sand and beach towel (bottom) area were more difficult and were solved last due to non-uniform shapes and patterns. Oh, the palm fronds were somewhat difficult as well. Overall, it took almost three hours (2:57:18) to complete the puzzle, which is about one and half hour faster than Sunken Treasure.
So if you can't go on a real beach vacation at the moment, then consider this puzzle. This is the 49th solved puzzle from the 87 puzzle collection. Leave us a comment if there are any other Aimee Stewart Buffalo puzzles that you would want us to review.
Go on a Beach Vacation When You Can't Go on a Real One