Deceptively challenging puzzle that looks easy and straightforward to solve.
Easy to start, but becomes more challenging towards the end.
Good interlocking as pieces stay together when lifted up.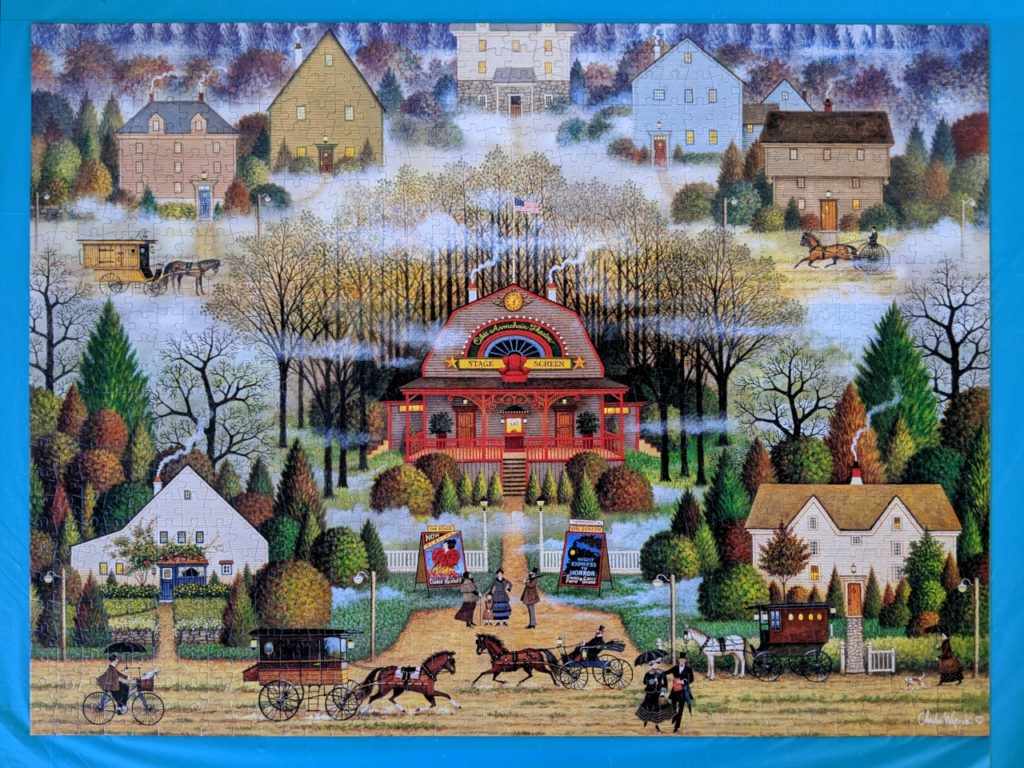 Title: Melodrama in the Mist
Pieces: 1000
Artist: Charles Wysocki
Size: 27in x 20in or 68cm x 50cm
Company: Buffalo Games
Year Released: 2016
Melodrama means "a sensational dramatic piece with exaggerated characters" that usually pertains to movies or plays. Unfortunately, the illustration is far from melodramatic and is quite subdued. The illustration features a red theater nestled in a grove of trees flanked by quaint buildings with a foggy mist rolling in. However, the melodrama will most likely appear in puzzlers when they discover that puzzle is deceptively challenging, like it did with us.
Oh, we cannot forget to mention that Melodrama in the Mist is by the famed artist, Charles Wysocki. He was prolific with Americana themed illustrations. If you love Wysocki's primitive style artwork, such as Honey Pumpkin Valley, then you'll enjoy this as well. However, if not, then maybe the puzzle's difficulty may interest you.
Build
Our sorting strategy was fairly and straightforward. We sorted the borders and buildings first. Next, we focused on the roads, horse buggies, and people. In addition, we assembled those initially sorted portions first. Lastly, trees, mist, and green plants, were sorted and built last.
Difficulty
In the time lapse video above, it took us two hours and forty three minutes to initially sort the pieces and assemble the border, buildings, road, people, and horse buggies. The trees, mists, and green vegetation took us another three hours to complete. Those last portions were the deceptively challenging part of the puzzle. Overall, it took three puzzlers almost six hours (5:56:43) to complete the puzzle.
Finally, Melodrama in the Mist is the 66th puzzle from our 87 puzzle collection. Leave us a comment if there are any other deceptively challenging puzzles that you would like us to review.
Unexpectedly Deceived by Melodrama in the Mist