Zen Cat is a very challenging Ceaco 750 piece jigsaw puzzle that features a peaceful cat filled with symmetrical, colorful and paisley patterns. Highly recommended for cat lovers and any puzzlers that want a challenge.
Content: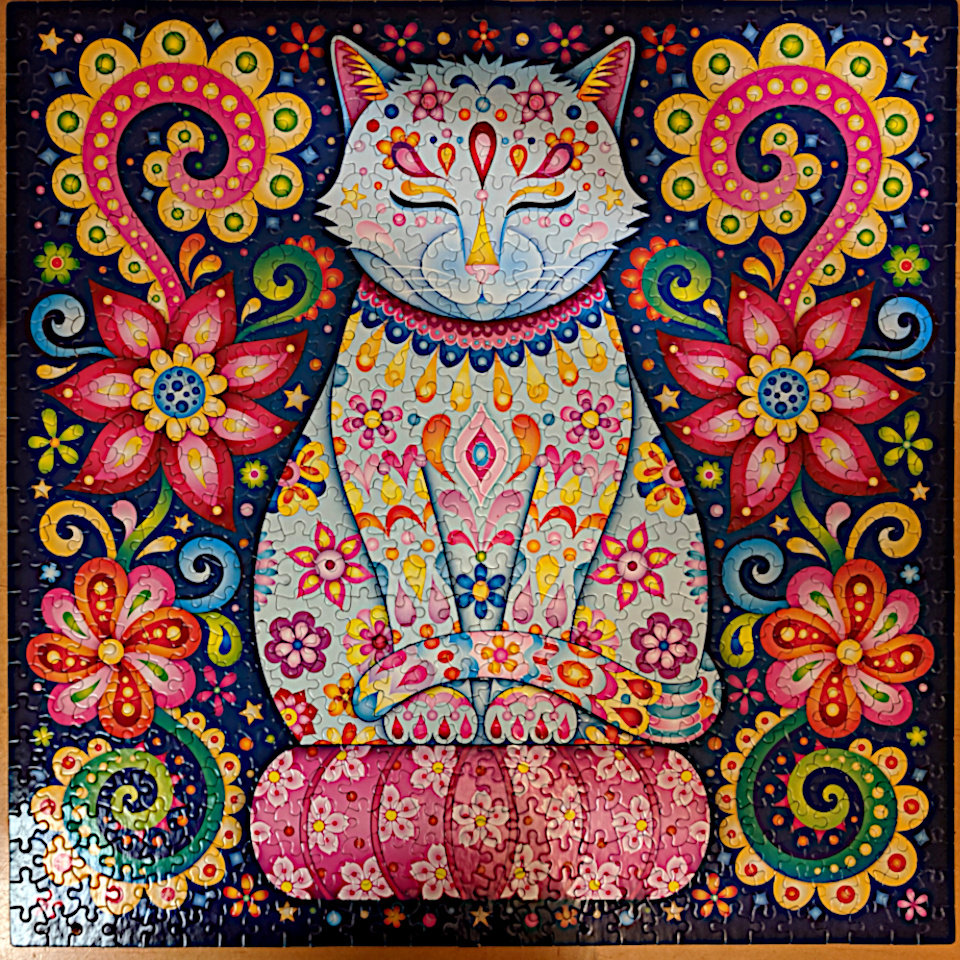 Title: Zen Cat
Pieces: 750
Artist: Thaneeya McArdle
Size: 21in x 21in or 53cm x 53cm
Company: Ceaco
Year Printed: 2017
Zen Cat is the most symmetrical puzzle that we have ever worked on. The illustration features a peaceful cat in a zen like state surrounded by colorful, floral and paisley patterns. However, the puzzle is not 100% symmetrical as the cat's tail provides a respite from all the symmetry. Additionally, the illustration is very colorful with colors that are complementary to each other.
Build:
Our strategy for solving the puzzle was to sort the puzzle pieces into four distinctive groups: border, cat, pink floral cushion and the colorful paisleys. Furthermore, the initial build focus was on the floral cushion and the paisleys, because they seemed to have the most difficulty. Next, we focused on the cat and finished up with the border.
Difficulty:
Zen Cat is the first 750 piece jigsaw puzzle that we have timed. It took us 03:03:03 to complete the puzzle. Surprisingly, we have solved 1000 piece puzzles in under three hours, such as JaCaRou's New Dogs on the Block. Overall, it was much faster to sort the puzzle pieces than to assemble the puzzle together. Due to symmetry and repeating patterns, it took much longer to find the right connecting pieces, especially for the paisleys.
Finally, Zen Cat is the 23rd puzzle that we've solved from our 87 puzzle collection. Furthermore, Zen Cat is part of Ceaco's Groovy Animal collection. Leave us a comment if there are any other Ceaco 750 piece jigsaw puzzles that you would want us to solve.
Zen Cat | Ceaco 750 Piece Jigsaw Puzzle