If you love candies, then this puzzle is for you. Candylicious is an Aimee Stewart puzzle, specifically part of the Buffalo Games Aimee Stewart Collection. Aimee Stewart is a self taught artist and very prolific that multiple puzzle companies license her artwork. For those keeping track, this is our tenth puzzle from the massive 87 puzzle collection. If we continue on this pace, there is good possibility we could finish all the puzzles in the collection in less than a year.
Content:
The illustration shows a smorgasbord of candies, gummies, gingerbread, and chocolate from a bird's eye perspective. The colors are vibrant and a feast for the eyes that encompass all shades of the rainbow. There are six main areas: the box of chocolate, tray of candy corns, plate of hard mint candies, bowl of gummies, dish of bit size candies, and an slushie rainbow drink.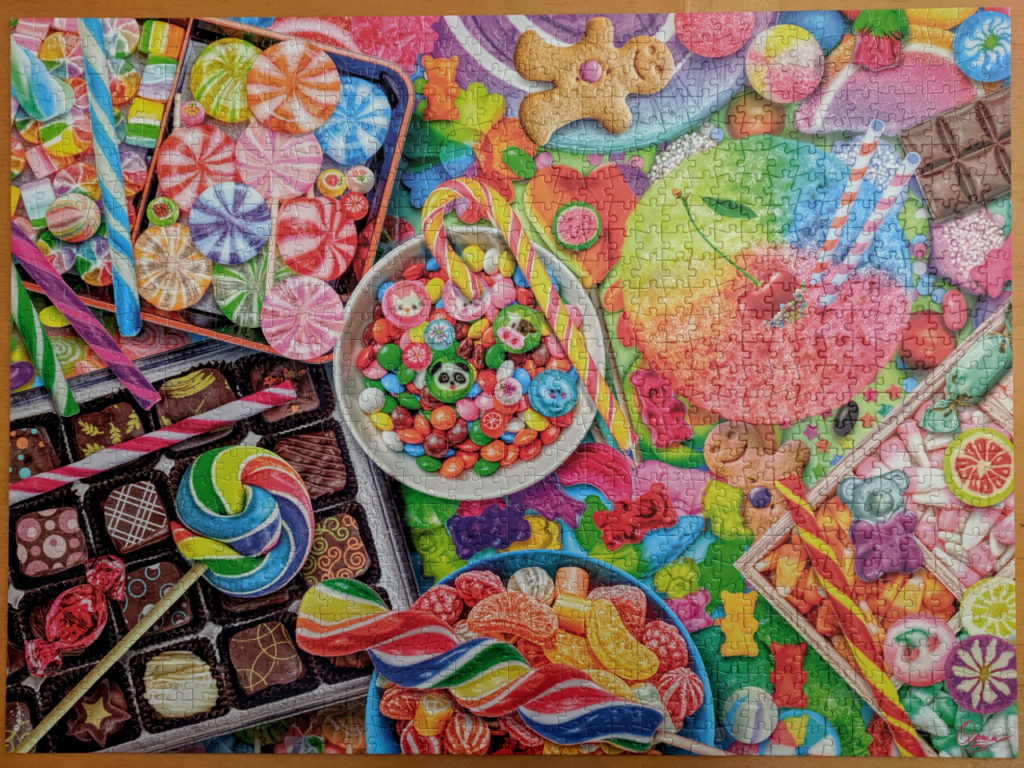 Title: Candylicious
Pieces: 1000
Artist: Aimee Stewart
Size: 27in x 20in or 68cm x 50cm
Company: Buffalo Games
Year Printed: ?
Build:
Our plan for solving Candylicious was to first sort the pieces for borders and distinctive patterns mentioned above in the content description. Afterwards, we assembled the sorted pieces. The gummy bear background was the last part to be completed. Overall, it took two and half person 4 hours and 20 minutes to solve the puzzle.
Difficulty:
Candylicious is a standard rectangular 1000 piece puzzle. The illustration makes the puzzle more challenging as there is very busy with many redundant patterns, such as gummy bears, spread out. Even though the illustration may seem daunting, there are ample patterns that will help with solving the puzzle. For example, the lines from the candy trays, boxes, and bowls, the lines from the candy canes and sticks are quite helpful in providing visual clue in how pieces connect with each other.
Quality:
As mentioned previously, Buffalo Games puzzles are of good quality. Puzzle pieces are made of gray chipboard, interlocks well together, and have a light responsive feel to them. The puzzle comes in a smaller box that also includes a poster insert with an enlarged image of the illustration.
That was fun, leave a comment if you want us to review any other Aimee Stewart puzzles.
Aimee Stewart Puzzle | Candylicious 1000 piece