Thematically similar to Aesop's The Ant and the Grasshopper fable.
Primitive style painting with more realistic people and animals.
Highly enjoyable and challenging Wysocki puzzle.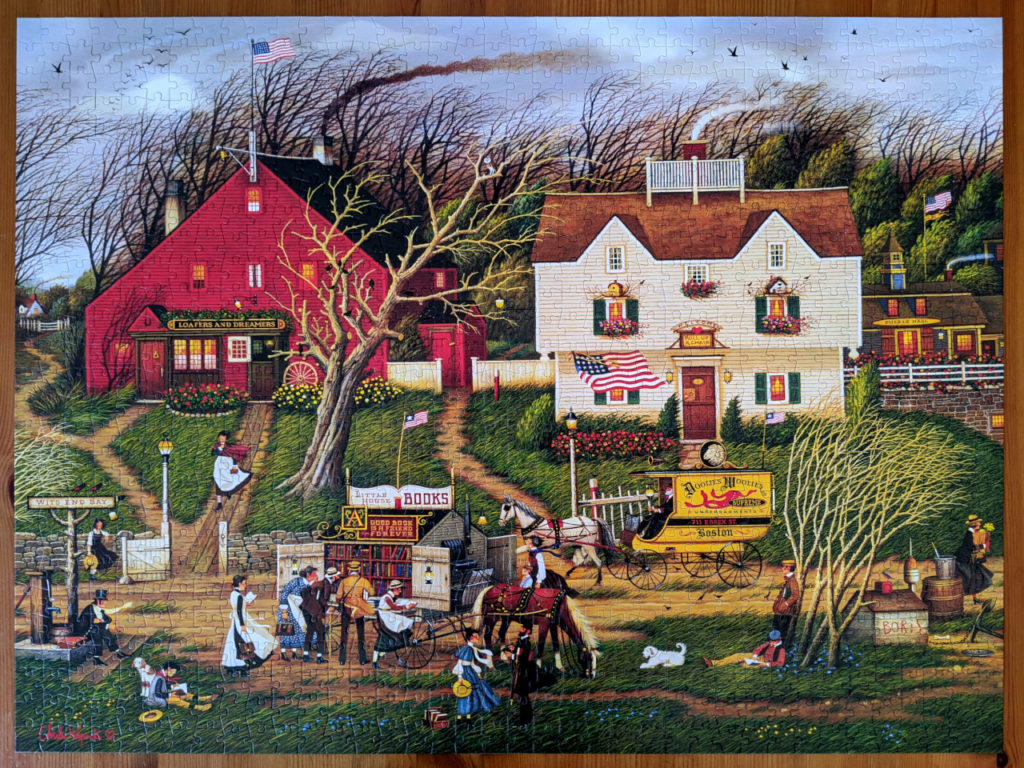 Title: Fireside Companions
Pieces: 1000
Artist: Charles Wysocki
Size: 27in x 20in or 68cm x 50cm
Company: Buffalo Games
Year Printed: ?
On the surface, Fireside Companions, features town folks congregating around a traveling book seller's wagon. Wysocki used a predominately primitive artistic style similar to his earlier works. However, there are elements of realism, such as the town folks and the animals. For example, the horses are more life-like and not two-dimensional representations, such as those in Wysocki's Olde America
On a closer inspection, the illustration conveys a theme that "winter is coming" and that the town folks need to prepare for the long, dark nights, such as having a nice book to cozy up with next to the fireplace. Almost all the town folks have a book or going about their chores, except for one person. However, there is a man dressed in black, lounging next to a hand water pump, on left side of the illustration. The similarity to Aesop's The Ant and The Grasshopper fable is quite remarkable. Figuratively, the man is the grasshopper while the town folks are the ants.
Build
The key steps to solving the puzzle were to first sort for the border pieces, then the puzzle's three main distinctive areas due to color and subject matter. Firstly, the foreground consists of people, animal, and wagons with distinctive colors, such as blue and bright yellow. Secondly, the mid-ground has three main buildings: a big red one, a large white house, and a modest brown building. Lastly, the background shows a gray overcast sky with wind swept bare tree branches. The bulk of the illustrations contains remaining green grass and brown paths, which contrasts with the three distinctive areas.
Difficulty
Overall, Fireside Companion was both a challenging and fun puzzle to solve. It took four puzzlers about four hours (3:58:05) to complete the puzzle. The tree branches and green grass were the more challenging part.
Finally, this is the 42nd puzzle that we've solved from our 87 puzzle collection. Leave us a comment if there are any other Charles Wysocki puzzles that you would want us to review.
Where Is the Grasshopper in Fireside Companions?