The flowers were both fun and challenging, because there were so many of them.
White Mountain is a good quality puzzle brand, but interlocking could be better.
Very difficult puzzle compare to other 1000pc puzzles that we've solved before.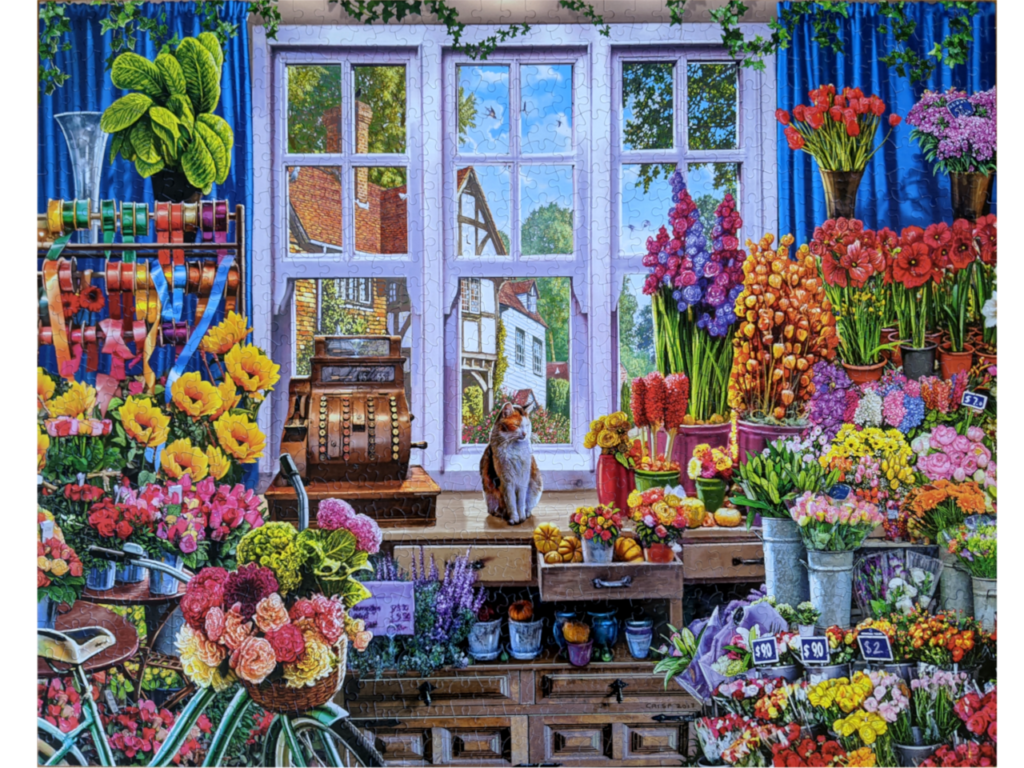 Title: Flower Shoppe
Pieces: 1000
Artist: Steve Crisp
Size: 30in x 24in or 76cm x 61cm
Company: White Mountain
Year Printed: 2017
Flower Shoppe is an awesome puzzle name, because it precisely describe what the illustration is. Per the above illustration, the shoppe is filled with all different and colorful flowers. The window, ribbons, blue curtain, cabinet and border stood out the most in the illustration. However, there were so many different colors and types of flower that it probably takes up about 50 percent of the space. The flowers made me think of bright colors coming together, like a rainbow. Personally, if the illustration included another cat, would have enjoyed it even more.
This is our first White Mountain puzzle. The pieces have a smoother cut compared to other brands, such as Buffalo. The size of the puzzle pieces are also bigger than other brands , which made it easier to find pieces. However, the interlocking for White Mountain puzzles could be a tiny bit better in my opinion as some of the pieces did come apart while assembling.
Build
The window, ribbons, blue curtain, cabinet and border were sorted first as they stood out. The flowers were both easy and hard to sort depending on their patterns. For example, the sunflower next to the cash register was easier to identify and build, while the loose cut flowers on the right side were harder. Unfortunately, most of the flowers were not sorted as there were too many that looked similar to each other.
Difficulty
As for division of effort, my sister solely worked on the cabinet and part of the window. My mom did the border, ribbons, and the cash register. While, I solved the signs and the bicycle basket. We all contributed to solving the numerous flowers. The basket of flowers, maybe hydrangea, are my favorite part of the puzzle. While, my sister's favorite part is the cute cat sitting in front of the window.
Overall, a very challenging puzzle as it took three of us almost five and a half hours (5:26:50) to complete it. It was fun to see all the different flowers come together. I would recommend this puzzle, especially to work together with family and friends. If you like this puzzle, you may also like Buffalo's Farm Flower Shed.
Finally, this is the 62nd puzzle from the 87 puzzle collection. Leave us a comment, if there are any other 1000 piece White Mountain puzzles that you would want us to review.
Getting Lost in the Colorful Flower Shoppe