Two of the more popular themes for jigsaw puzzles, but which is more popular?
Surprisingly, there is frequent overlap between the two themes.
The Potting Shed is a deceptively challenging puzzle.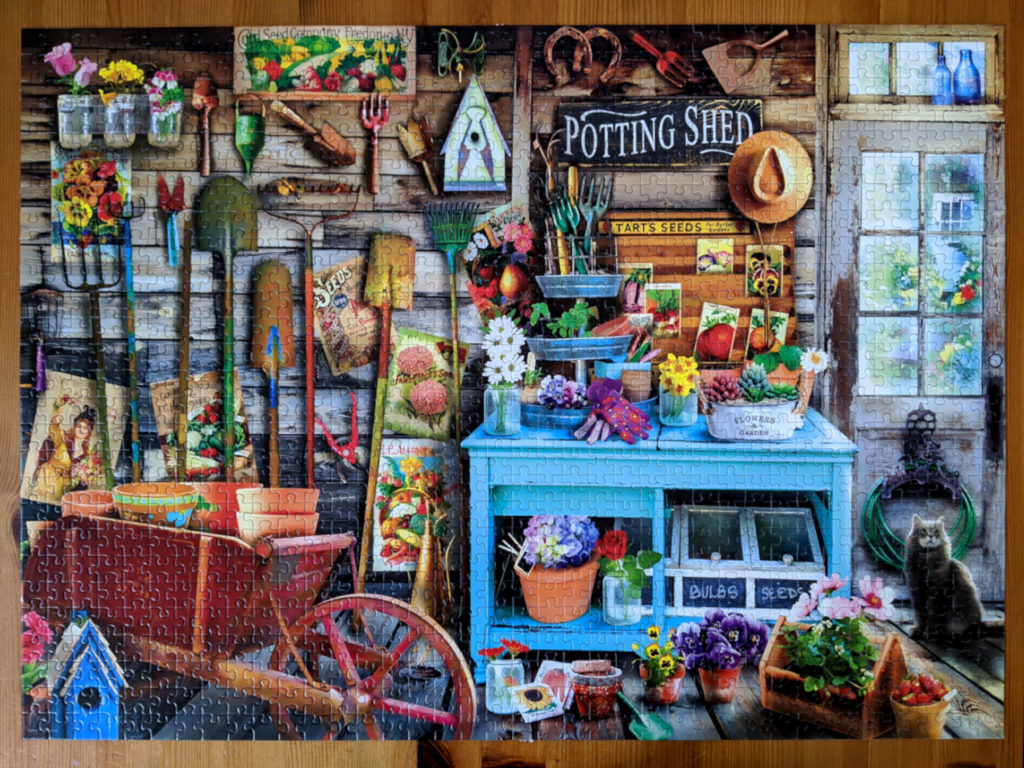 Today's review is specifically for The Potting Shed by EuroGraphics. However, we noticed that this is our eighth shed jigsaw puzzles, in which the central theme is about the shed. Which in turn, got us thinking if shed was the most popular jigsaw puzzle theme in our collection or another theme. Including The Potting Shed, we have solved sixty one puzzles from the eighty seven jigsaw puzzle collection. A quick examination revealed that we tagged thirteen jigsaw puzzles with "cats". However, upon closer examination, only ten puzzles had "cats" as the main theme. Furthermore, three of the puzzles, Crazy Cats in Dad's Shed, Laid-Back Tom, and Potting Shed Cats, overlapped with shed. Even two of the puzzles' title contain both cats and shed. Anecdotally from this small sample size, "cats" is probably more popular than "sheds", but sheds is definitely second. Another indicator of cats' popularity is that Buffalo Games has a whole collection focused on cats.
Title: The Potting Shed
Pieces: 1000
Artist: Jason Taylor
Size: 27in x 19in or 68cm x 49cm
Company: EuroGraphics
Year Printed: ?
Build
A quick glance of The Potting Shed's illustration indicates that this should be a straight forward puzzle to solve. However, a closer inspection of the smaller puzzle pieces revealed that there are more repetitive and dull patterns than distinctive colorful patterns. Distinctive and colorful patterns, such as the border, words, white door, red wheelbarrow, and teal cabinet, are easier to sort. While repetitive and dull patterns, such as the flowers, shed's wall, and gardening tools, were left in a large unsorted pile.
Difficulty
Due to more pieces having repetitive patterns, The Potting Shed is a very challenging puzzle to solve. It took us slightly more than six hours and fifteen minutes (6:16:47) to solve it. In the above video, at the half way mark (three hours time lapsed), barely half the puzzle is solved. Most of the remaining pieces left were for repetitive patterned areas. Definitely our most challenging EuroGraphics puzzle to date.
Lastly, this is the 61st puzzle from the 87 puzzle collection. Leave us a comment, if there are any other 1000 piece shed jigsaw puzzles that you would want us to review.
Which Are More Popular, Cat or Shed Jigsaw Puzzles?