A busy and funny illustration of a seaside city filled with people, boats, and animals.
Recommend using a sorting strategy upfront as it save time and frustration.
Challenging, because of those detailed pieces.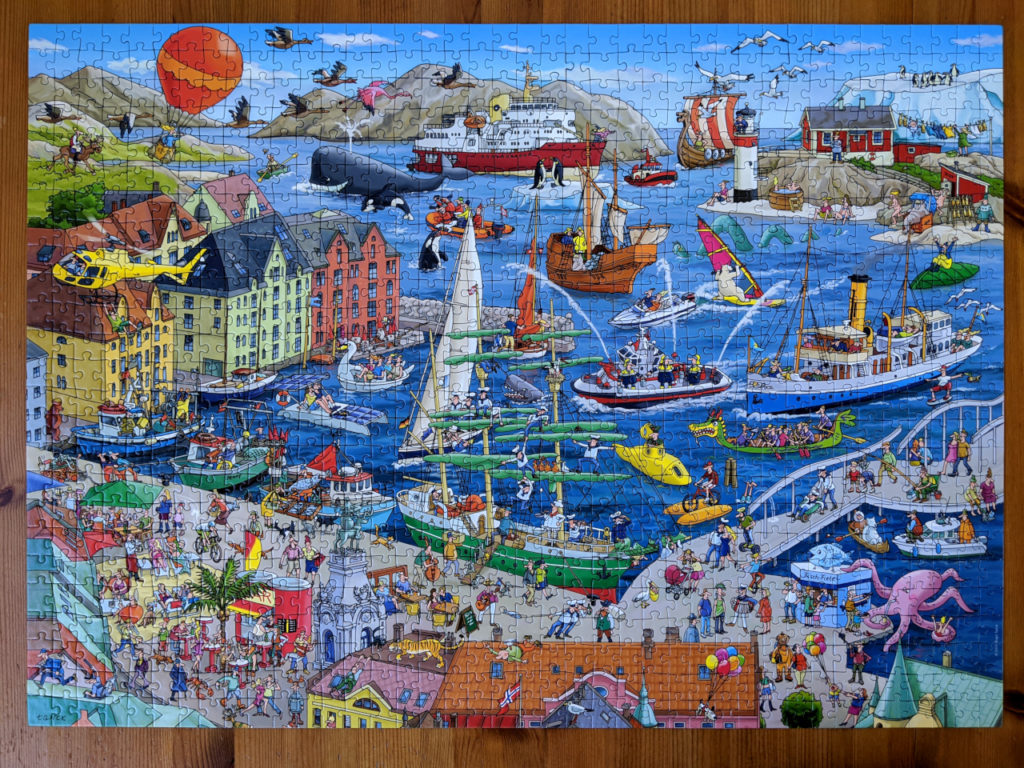 Title: Seaport
Pieces: 1000
Artist: Birgit Tanck
Size: 28in x 20in or 70cm x 50cm
Company: Heye
Year Printed: 2017
I chose Seaport for our family to solve, because of the colorful, playful and funny illustration. The general scenery is of a seaside city with a port next to the sea. However, almost every inch of the illustration is filled with tiny, funny details. For example, there are all different kinds of boats in the sea, like a viking longboat and polar bear windsurfing. The city's promenade is packed with people and creatures doing silly things, such as a giant octopus "attacking" a fish and chip shack while people take selfies with it. I really like the penguins on the iceberg and wish there were more of them.
Build
The original sorting strategy was to focus on large areas with noticeable patterns, such as the edge, sky, rocky islands, rooftops, building facades, promenade, iceberg, the sea, and boats. However, we only partially stuck with our sorting strategy. Due to fatigue with going through so many detailed pieces, which was hard to distinguish from each other. We ended up with a seek and find strategy. This ended up taking us longer. Nevertheless, it was still a lot of fun. Oh, the interlocking is a bit loose. When we assembled a small section and tried to lift it up to attach it to the rest of the assembled puzzle, it would fall apart.
Difficulty
It took three of us four hours and eleven minutes (04:11:01) to complete the puzzle. Overall, the puzzle was fun to build because of all the color and funny details. However, it was challenging due to sorting those same detailed pieces. Be warned that it could get frustrating.
Recommendation
I really want to give Seaport a thumbs up, because of the funny and playful illustration. However, the busy details and loose interlocking made it a slightly above average puzzle. I would still recommend it, especially if you like colorful, funny, and detailed puzzles. If you do, then you might also like Dog Show, another 1000 piece puzzle illustrated by Birgit Tanck.
Finally, this is the 64th puzzle from the 87 puzzle collection. Leave us a comment, if there are any other Heye 1000pc puzzles that you would want us to review.
Busy Seaport Is Colorful, Hilarious and Frustrating