The Spice Mice is a JaCaRou 1000 piece jigsaw puzzle that is moderately challenging to solve. The burgundy colored illustration features mice in Paris. Overall, a fun jigsaw puzzle for folks that like rodents and Paris, such as Ratatouille.
Content: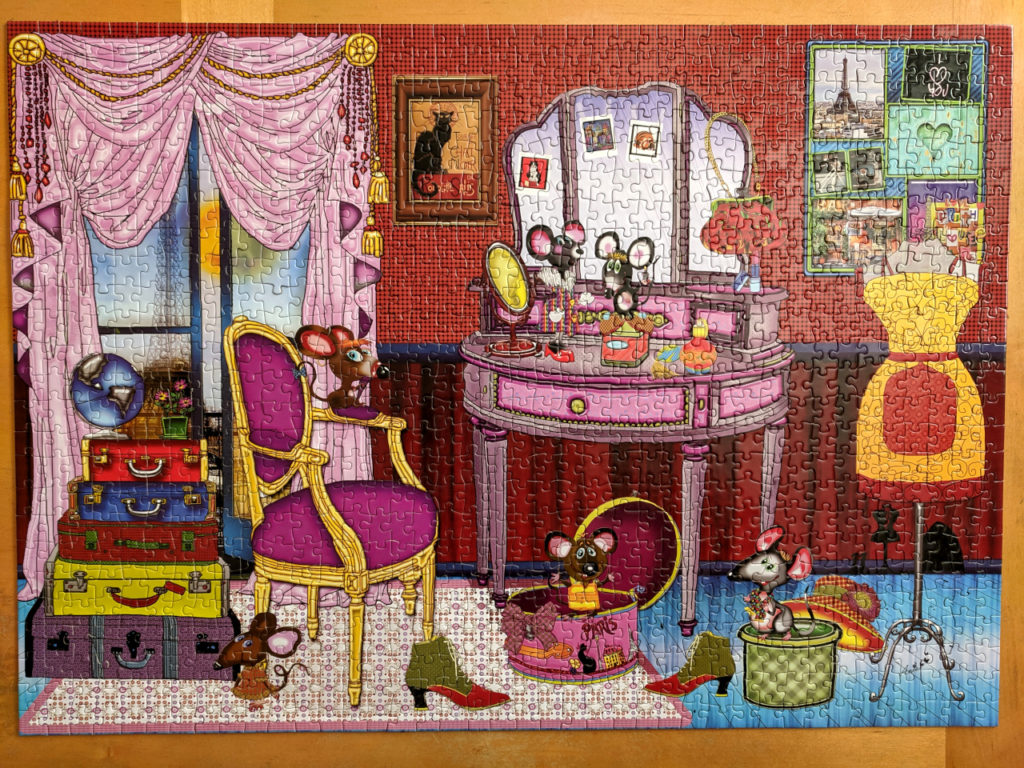 Title: The Spice Mice
Pieces: 1000
Artist: Anie Maltais
Size: 28in x 20in or 70cm x 50cm
Company: JaCaRou
Year Printed: 2016
The puzzle has a burgundy themed illustration of six mice enjoying themselves in a room in Paris. Surprisingly, the illustration is open to different interpretations. Are the mice living the high life and visiting Paris or are the Parisian mice getting ready to leave on a trip? Stylistically, the drawing is rough not as detailed as other illustrations from artist like Aimee Stewart or Steve Read.
Build:
The sorting strategy for The Spice Mice was to focus on the main areas of the puzzle: pink curtains, red checkered wall, burgundy lower wall, pink rug, dress mannequin, and blue floor. The secondary priority after the initial sort was to identify the border, purple chair, dresser, luggage, and wall posters. The mice are fairly small and did not encompass many pieces, therefore, was not a priority in our sort.
Difficulty:
Overall, The Spice Mice took a total of 3:19:36 to complete. The three of us focused on different sections and then we combined the different parts together. The most challenging part of the puzzle were the pieces with the same repeating pattern that are spread out in a non-contiguous area, such as the red checkered upper wall, burgundy lower wall, carpet, and blue hardwood floor. The burgundy lower wall was the last portion for us to complete and was broken up by table legs, dress mannequin, and pink curtains. Lastly, The Spice Mice is a moderately challenging as it took us longer to complete when compared to New Dogs on the Block.
Finally, The Spice Mice is our 21th puzzle from our 87 puzzle collection. Leave us a comment if there are any other JaCaRou puzzles that you would want us to solve.
JaCaRou 1000 Piece Puzzle | The Spice Mice