Re-marks CS Lewis puzzle is a collage of several book covers from novels by the famed author, C.S. Lewis. Overall, a great puzzle to work with a large group of people, such as with your friends and family.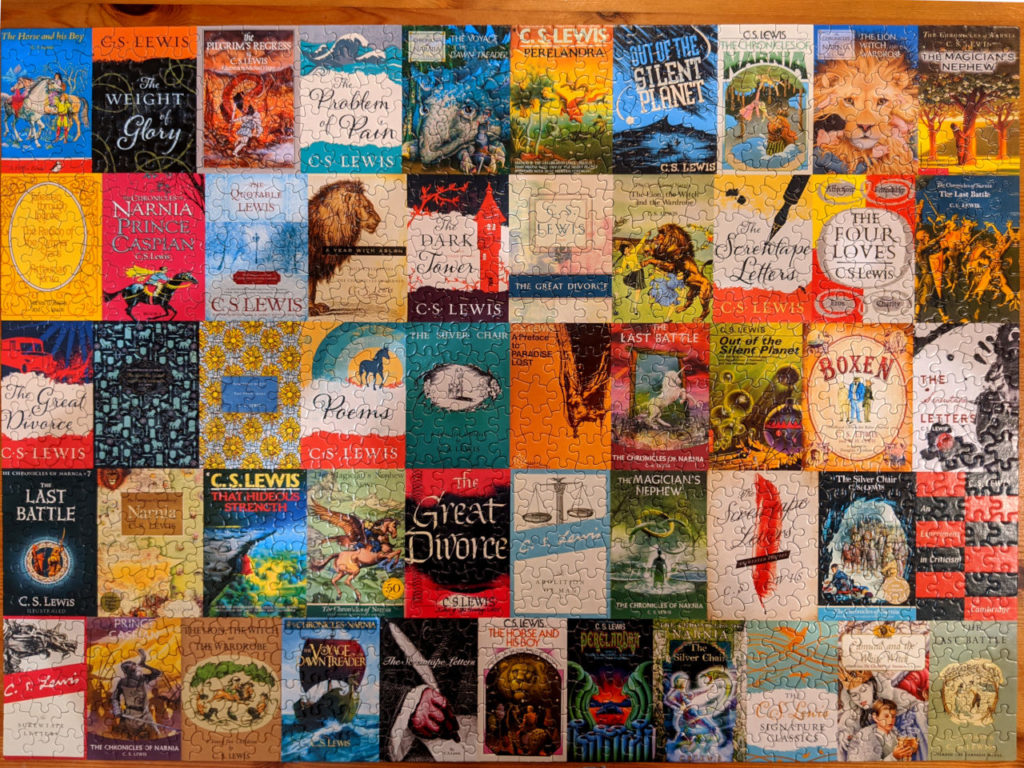 Title: C.S. Lewis
Pieces: 1000
Artist: ?
Size: 27in x 19in or 68cm x 49cm
Company: Re-marks
Year Printed: ?
Content
If you are a fan of the author, C.S. Lewis, then this 1000 piece puzzle is for you. The illustration is a collage of fifty one book covers from C.S. Lewis novels. The design is similar to another Re-marks book collage puzzle, Bedtime Stories. While all the book covers are different, there are a few redundant titles, such as The Lion, the Witch and the Wardrobe. The color palette is fairly wide with purple having the least appearance. Overall, the color scheme, text, and arrangement of the book covers made the puzzle appealing and enjoyable to work on.
Build
There was not a specific strategy used to solve the puzzle. As our immediate family was visiting us for the holidays, we laid out the puzzle for anyone to work on it. Collage puzzles are great for family gatherings as anyone can focus on a specific pattern or area at anytime, while someone else works on another. In our case, different family members worked on specific book covers looking for specific patterns or text. Solving the border was not a priority as that was assembled towards the middle half of the puzzle build.
Difficulty
The puzzle was not too difficult, because of the unique pattern and words on the book covers. Therefore, the sorting of pieces was easier than most other puzzles. However, there were some books covers that had similar designs, such as the ones with similar font or black letters on white background. In the time lapse video, the recorded time to solve the puzzle was three hours (03:07:37). Unfortunately, the timer was not paused and kept running for twenty minutes while no one was working on the puzzle. Technically, the puzzle took about two hours and forty minutes, which is on the easy range of a 1000 piece jigsaw puzzle.
Lastly, CS Lewis is the 29th puzzle from our 87 puzzle collection. Leave us a comment if there are any other Re-marks collage puzzles that you would want us to review.