Spice Rack Kittens puzzle is fun and not as challenging as other 750 puzzles in the Cats Collection from Buffalo Games. We loved the six kittens playing on pantry shelves filled with spices, catnip, and cat food.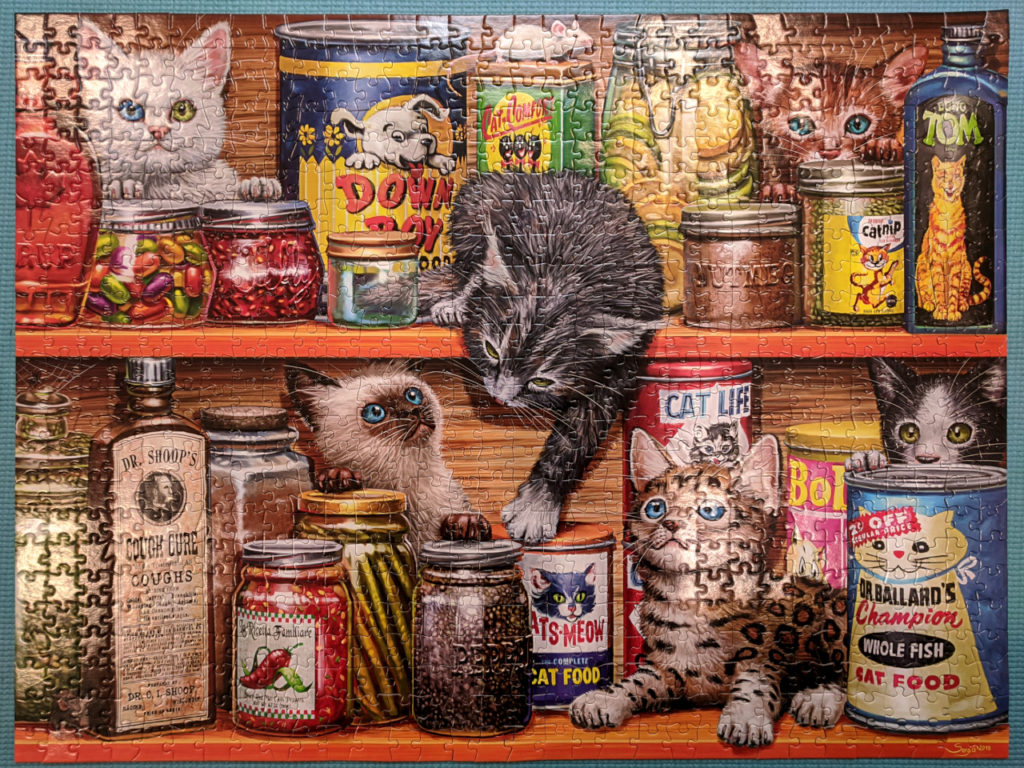 Title: Spice Rack Kittens
Pieces: 750
Artist: Sergio Studio
Size: 24in x 18in or 61cm x 46cm
Company: Buffalo Games
Year Printed: ?
The jigsaw puzzle was much easier to solve, because most of the patterns were distinctive and not repetitive. For example, the packaged goods on the shelves have different colors and labels. The six kittens also have different fur color and patterns.
Our plan for solving the puzzle was to sort the pieces for edges, labels, and kittens. It took the three of us 2:12:28 to complete the puzzle. Overall, we give this puzzle two thumbs up and recommend it for anyone that loves cat or starting their first 750 piece jigsaw puzzle.
Lastly, this is the 24th puzzle that we've solved from our 87 puzzle collection and third from Buffalo Games' Cats collection. Leave us a comment if there are any other Cats collection puzzle that you would want us to solve.
Spice Rack Kittens Puzzle 750pc