Ravensburger Stamp Collection is a one thousand piece jigsaw puzzle featuring a sheet of floral stamps. Overall, a beautiful collage puzzle that is difficult to solve due to the repetitive patterns along the border.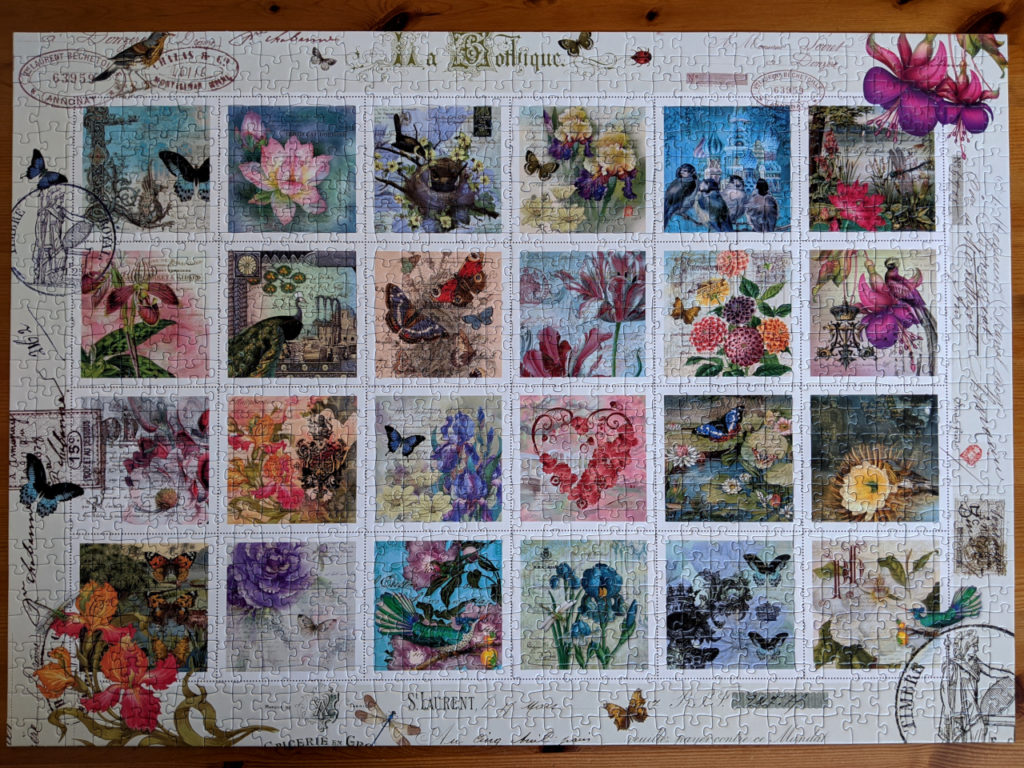 Title: Stamp Collection
Pieces: 1000
Artist: Finchley Paper Arts
Size: 27in x 20in or 70cm x 50cm
Company: Ravensburger
Year Printed: 2019
Content
The illustration shows a sheet of antique stamps consisting of twenty-four individual stamps. Each stamp features a different flower. Essentially, the puzzle is a collage, even though the sheet's border gives the perception it is not. The color palette covers the entire color spectrum, making the stamps vibrant and colorful. However, the border is mostly white with dark color wordings and repetitive patterns.
Build
Similar to the C.S. Lewis puzzle, the puzzle was set out for anyone in our family to work on. Therefore, there was not a uniform strategy for solving the puzzle. Some folks worked on the border will others focused on individual stamps. The sorting took longer than most as some of the individual pieces for stamps look similar to other stamps.
Difficulty
Overall, the puzzle was solved in four and half hours (4:28:18). The most challenging part was the white border as it was difficult to determine which part of the border the individual pieces belonged to. Even with text and markings along the border, it was still a challenge due to the repetitive nature and similarities with each other. Lastly, some of the individual stamps share a similar color palette, which made sorting the pieces challenging, especially for pieces near perforated lines.
Overall, a beautiful and fun puzzle to work with a group of people. Definitely not an easy puzzle. Lastly, Ravensburger Stamp collection is our 30th puzzle from the 87 puzzle collection. Leave us a comment if there are any other Ravensburger 1000 piece collage puzzles that you would want us to solve.
Ravensburger Stamp Collection | 1000 Piece