Re-marks Umbrellas, is a 1000 piece collage puzzle, that is fun and fast to work together with friends and family. The puzzle features unique designs themed around umbrellas. Which umbrella design do you like?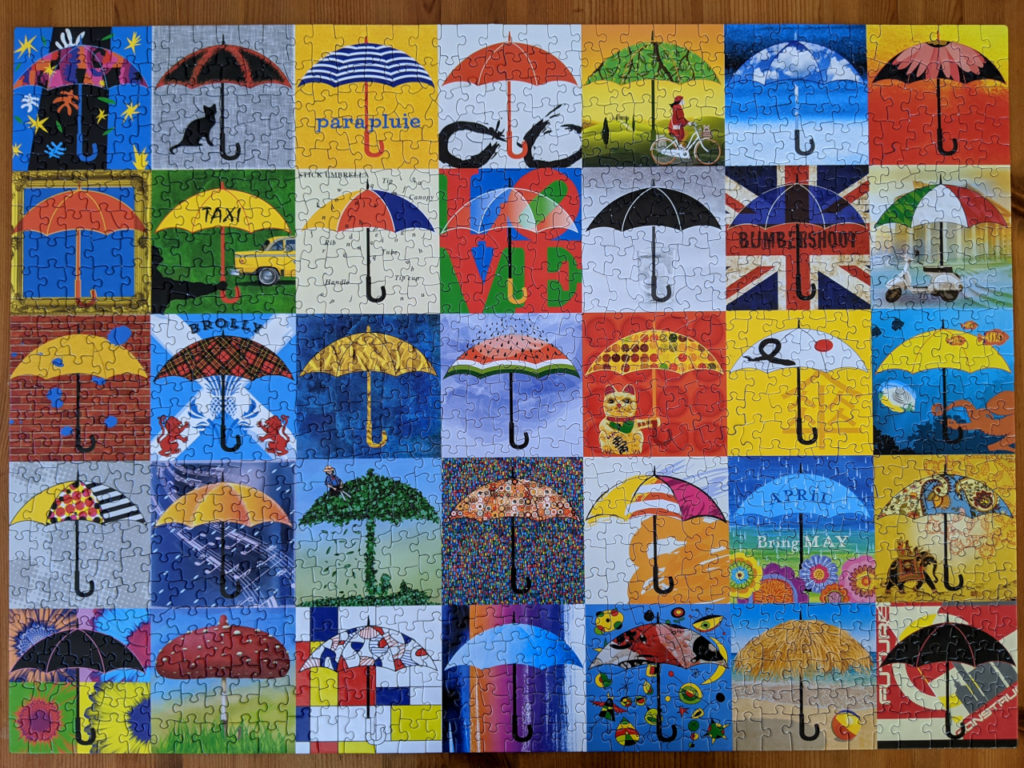 Title: Umbrellas!
Pieces: 1000
Artist: ?
Size: 27in x 19in or 68cm x 49cm
Company: Re-marks
Year Printed: ?
Content
Umbrellas is a collage puzzle that combines the theme of Asian Oil-Paper Umbrellas puzzle with other collage puzzles, such as Re-marks' C.S. Lewis. There are thirty-five panels with unique designs that incorporate an umbrella in each panel. Artistically, Umbrellas is a bit flat as the illustrations are two dimensional. However, the variety of design provides great opportunity for anyone to find a design they like. We like the "April showers bring May flowers" design.
Build
There was not a specific strategy for solving puzzle, as the puzzle was set out for our visiting family to work on together. As with collage puzzles, folks focused on specific patterns or colors. So different family members would sort and build a specific umbrella panel design and connect them together. Because of the unique designs, there was hardly any repetitive patterns.
Difficulty
Overall, Umbrellas! was much faster to solve than the previous collage 1000 piece collage puzzle, Stamp Collections by Ravensburger. It took the family three hours (3:01:01) to solve the puzzle. The unique patterns of the individual umbrella panels made the sorting faster as there were less repetitive patterns. In summary, a great puzzle to work together with friends and families or as your first one thousand piece jigsaw puzzle.
Lastly, Umbrellas! by Re-marks is our 31st puzzle from the 87 puzzle collection. Leave us a comment if there are any other 1000 piece collage puzzles that you would want us to review.
1000 Piece Collage Puzzle | Re-marks Umbrellas